$15 from every direct Ziptrek booking will be donated to the Southern Wellbeing Trust this month.
Every zipline gives back this October! Starting 1 October during Mental Health Awareness Week, and running until 31 October, Ziptrek will lead weekly activations aligned with the Mental Health Foundation's '5 Ways to Wellbeing'.
WEEKLY ACTIVATIONS
Week 5 – Give
For our final week of #WellbeingForWhakatipu, we encouraged you to Give - whether that's your time, your words, or your presence.
In this week's video, we headed to our tree planting site on Bob's Peak to check out the work Ziptrek's been doing to Give back to the environment - watch the video here.
In the spirit of giving, Ziptrek planted a native tree on behalf of every guest on tour this week + each guest received a packet of native seeds to take home and plant in their garden.
Week 4 – Take Notice
Take time to Take Notice on Saturday, 23rd Oct and join us for a special Guided Mindfulness Experience in the forest on Queenstown's iconic Gondola Hill.

This unique event includes:
✔️ 90-minute guided mindfulness nature walk up the Queenstown Tiki Trail w/ Nadi Wellness
✔️ 30-minute guided treehouse meditation session w/ Claire Stewart Yoga & Wellbeing + Silent Disco Queenstown
✔️ An exciting zipline + (optional) 21m Kererū drop experience w/ Ziptrek Ecotours Queenstown
✔️ $15 donation to the Southern Wellbeing Trust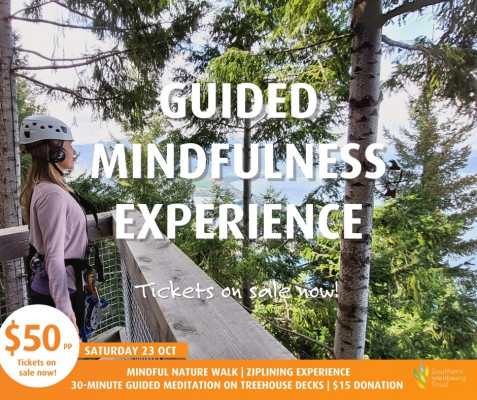 Week 3 – Keep Learning
This week for #WellbeingForWhakatipu, we popped into the Kiwi Birdlife Park to Keep Learning even more about NZ's native birdlife from keeper, Chrissy.
We encouraged you to learn an interesting fact about a native bird in your area. If you're in Queenstown, the Kiwi Birdlife Park is a great place to do so – being curious, learning and seeking out new experiences helps to keep our minds healthy and strong.
Week 2 – Be Active
This week for #WellbeingForWhakatipu, we challenged you to get out a Be Active for at least 30 minutes in a way that suits you – whether that's to walk, bike, dance or zipline!
To encourage you to Be Active here in Queenstown, we ran a Tiki Trail Treasure Hunt each day and gave away over $500 worth of Ziptrek tours + merch!
Week 1 – Connect
For the first week of #WellbeingForWhakatipu, we challenged you to Take Time To Kōrero and connect with someone over coffee - virtually, or in person.
Building meaningful relationships with whānau, friends and the community goes a long way to increasing your sense of belonging and strengthening personal wellbeing.
The Ziptrek team love taking time to catch up at The Exchange Cafe here in Queenstown. The team at The Exchange will also give you $1 off any coffee when you byo Keepcup, how great!
About #WellbeingForWhakatipu
Ziptrek Ecotours and the Southern Wellbeing Trust have partnered with other likeminded local small businesses to launch #WellbeingForWhakatipu - a five-week initiative which aims to help people find balance, build resilience and boost mental health and wellbeing.

Each week, there will be a different focus with giveaways, collaborations and events promoted through Ziptrek's social channels (@ziptreknz) to encourage the community to come together and Connect, Be Active, Keep Learning, Take Notice and Give.
Director of Ziptrek Ecotours Trent Yeo says that the community has faced a range of challenges over the past 18 months and there's never been a more important time for people - and organisations - to focus on their mental wellbeing and support each other to stay well.
"We've been focusing on wellbeing as a team and we wanted to find a way to take it wider to the Whakatipu community and our visitors by showing how tourism experiences can align with the Mental Health Foundation's 'Five Ways to Wellbeing'. This also fits with our regenerative tourism principles which are as much about caring for people as they are about caring for our place. Tourism in itself can be a sustaining activity, from the connection and camaraderie guests and staff experience to being immersed in nature, taking notice, learning, and being offered opportunities to give back or get involved in local community projects."
Southern Wellbeing Trust General Manager Anna Dorsey says that her team is thrilled to be partnering with Ziptrek and supporting businesses to promote mental health awareness in October.
"Every dollar earned will enable more people to take part in our mental health education workshops, which means our whole community is helping each other to be more resilient and stay well."