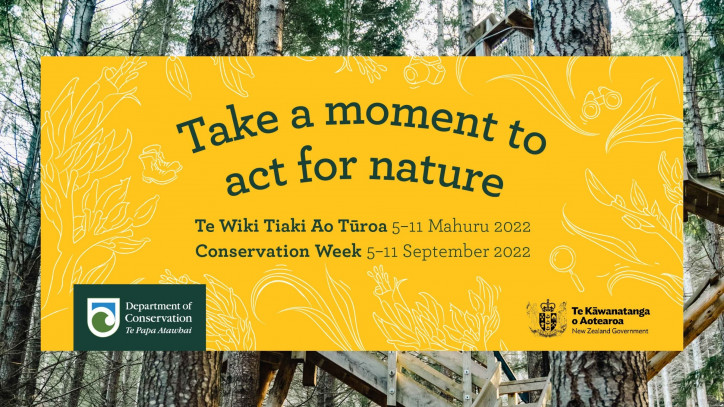 The theme for Conservation Week 2022, 5-11 September focuses on how we can 'take action' for nature and in doing so, benefit our wellbeing.
"Ka ora te whenua, ka ora te tangata – when the land is well, the people are well."
Here are three simple actions to inspire you to get involved this Conservation Week…
1. Volunteer
Volunteering your time or money to support a conservation project or event is a fantastic way to take action for nature. You might like to contribute by:
Planting trees
Helping out community groups
Getting involved in a restoration project
Donating to a conservation programme
Joining a Conservation Week volunteering event in your area – browse events
Did you know that taking a moment to act for nature can not only benefit our environment but our personal wellbeing, too?
Volunteering can help you boost your mood, connect with your community and feel a sense of satisfaction (you've done something great for the planet!).
What is Conservation Week?
Conservation Week/Te Wiki Tiaki Ao Tūroa is a New Zealand national celebration that encourages people to get involved in nature and help to take care of it.
Learn more about Conservation Week here.
2. Lead by example
To lead by example means to guide others through your behaviour, instead of your words. Inspiring others to act for nature can be as easy as:
Refusing single-use – using reusable alternatives, and encouraging others to do so, too

Picking up rubbish

Practising leaving no trace

Respecting wildlife by not approaching or feeding wild animals
By taking these actions, you're helping conserve and protect nature (even if it might feel like second nature to you!).
3. Join a citizen science project
Citizen science projects are large-scale science projects in which volunteers can help with tasks that would take too much time for researchers to do alone.
Taking action by joining an online citizen science project is easy - you can make a meaningful contribution to conservation from the comfort of your couch!
Projects can involve tasks like watching webcams or identifying species in photos. Learn more about online citizen science projects.
How are you planning on taking action for nature this conservation week? Let us know on Facebook or Instagram – we'd love to hear!