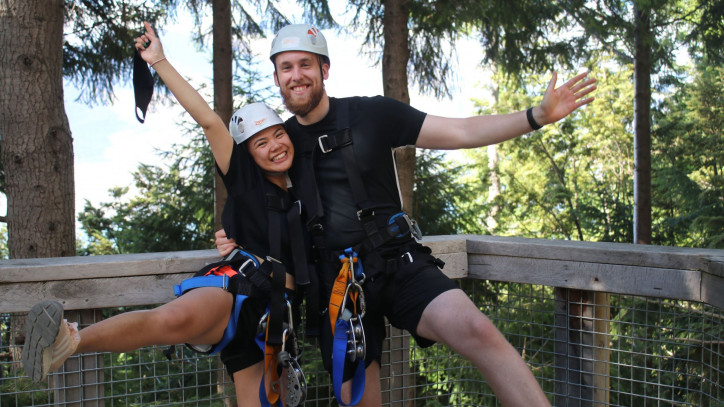 Whether you're a first-time zipliner or really not a big fan of your feet leaving the ground, you don't have to let your fear of heights stop you from experiencing the exhilaration of ziplining through the trees.
If you're someone who is a little (or a lot!) unsure about heights, ziplining is a fantastic, safe and fun way to push yourself out of your comfort zone and try something new.
Even if you're afraid of heights, here are 3 reasons why you should still zipline:
1. You're not the only one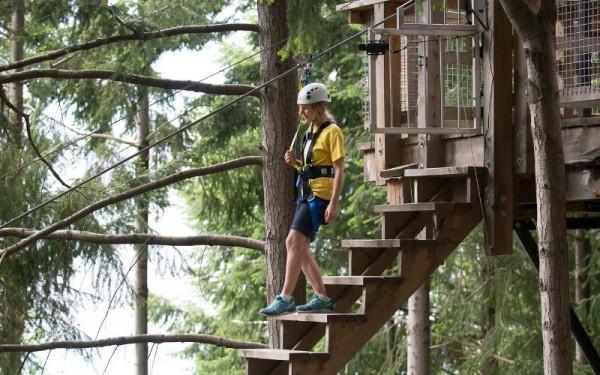 If you're afraid of heights, know you're not alone – we meet people like you every day on tour! For this reason, we've specifically designed our course to build your confidence with each zipline.
Our first two ziplines are low to the ground and slower, giving you plenty of time to get used to the feeling of flying through the air, supported by our comfortable harness.
To ride our ziplines, you'll simply walk down a set of stairs and sit back, relax and enjoy the ride once your feet leave the ground.
While they can look intimidating, the stairs are designed to create a smooth transition from your feet on the ground to having your weight supported by your harness on the zipline.
It's natural that our brains are programmed to make us cautious around drop-offs but remember – you aren't walking off them, you're transitioning your support system.

2. We're here to help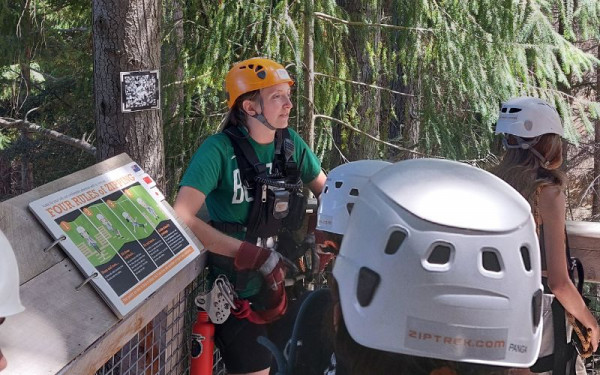 Our fully-guided tours mean you have two professional guides by your side throughout the tour.
They're experts at helping you build your trust while making you feel safe and secure and on hand to help calm your nerves and alleviate any fear you might have.
⭐⭐⭐⭐⭐ "Lucy and Amy were awesome at hosting our Ziptrek adventure. They made it fun whilst being super professional. I was nervous but very much felt in safe hands. Thank you." – Trudy, January 2023.
⭐⭐⭐⭐⭐ "We had a great time on our 4-line tour. My eldest was petrified and I wasn't sure he would go through with it but he did it and I think he had a good time, the instructors were awesome with the kids." – Hannah, January 2023.

3. Your safety is always paramount
Our first core value is safety is paramount to everything we do. You can rest assured Ziptrek Ecotours has thorough procedures in place and all required accreditations to ensure your safety while ziplining.
Did you know our parent company, Ziptrek Inc. has been safely zipping happy guests around the globe since 2002? That's over twenty years of experience!
If you have any specific safety-related questions, you're always welcome to speak with our team directly.


Knowing you're not the only one, our team is here to help and that your safety is always paramount means you can relax and enjoy the exhilaration of ziplining through the trees – don't let your fear of heights stop you!
If you're feeling hesitant, we recommend first-timers book our Moa 4-Line tour as the perfect starter to your adventure experience in Queenstown.
We can't wait to see you in the trees!