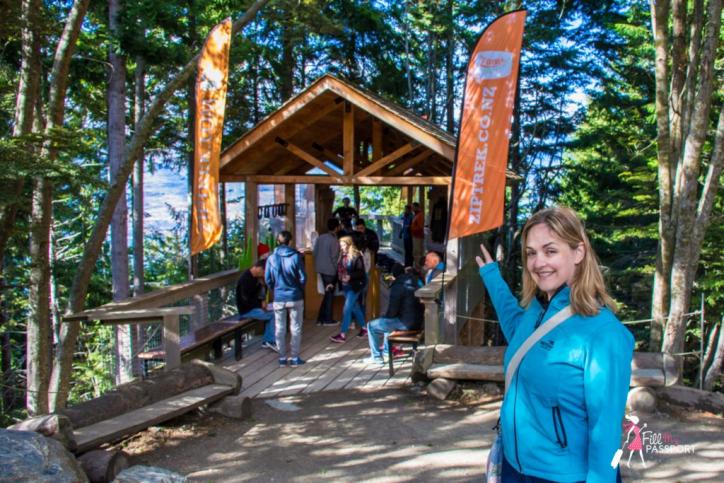 My birthday is sort of a big deal; well, isn't everyone's? It is a celebration of being on this earth another 365 (or 366 in a leap year) days and conquering the challenges of life. This being said, my husband truly gives my birthday the recognition and spotlight he feels it deserves, and I guess with a wife who is approaching 40, it is the safe thing to do to keep me from dreading that day in mid-January. This year, he gave my 38th rotation around the sun spectacular treatment with a bucket-list-ticking trip to the adventure capital of the world – Queenstown New Zealand. A town that mirrors the quirkiness and quaintness of Aspen Colorado, Queenstown is a place where your inner adrenaline-junkie's dreams come true. Therefore, in honour of this risk-taking, death-defying momentum, I have comprised a bucket list of must-do's series while in this beautiful South Island haven, starting with a zip through the trees with Ziptrek Ecotours.
Now most of you lot back home in Canada are probably shaking your heads at the thought of travelling to New Zealand as if you are not living in Vancouver, the travel time reaches a hefty 18+ hours without layovers. Trust me. This beautiful country, steps (well a 3-hour flight away) from Australia, is indeed a magical destination ready for the world. Queenstown brings us together with a population from every corner of the world. I couldn't believe the diversity in such a small town. I hardly met any locals! Fellow Cannucks, you must explore New Zealand, and I am going to show you why the lengthy travel trip, numerous layovers, crappy airplane food, (unless you are one of the blessed few who can travel first class and have a cocoon and bottle of champagne to yourself for the journey), and limited legroom is worth it.
So, what exactly is Zip Trekking?
Well, in layman's terms, it is the art of travelling at momentous speeds from tree top to tree top through the forest. At great heights above the ground, you are attached to a cable, adorned with harness and helmet, and swept across metres of forest amidst mountain, rain forest, and sky views that will take your breath away.
Here in Queenstown, New Zealand, visitors have the opportunity to experience the tallest and steepest forest zipline adventure in the world while getting educated on sustainability along the way.
The Step-by-Step Guide on your Experience with Ziptrek Ecotours
In order to enjoy this experience, you will need to take the Skyline Gondola. At the centre of Queenstown, the gondola is a great way to see beautiful panoramas of the town, as well, as transport you to a variety of air activities including bungees, luges, helicopter rides, stargazing sessions,and more. Prices vary depending on your activity and package you buy. If you are strictly riding the gondola without a packaged activity or just to see the incredible panoramic views, the cost is $33 NZD per person for a round trip. Make sure you think through your ride and package as should you need to go up the gondola a second time, you will need to pay another $33.00. Try and price it out so you experience everything you want at once to avoid paying for extra trips.
Try to arrive to the top of the mountain at least a half hour to 45 minutes prior to your scheduled zip-lining as the views at the top of the gondola are mighty spectacular and worthy of a snapshot or two. (or 1000 in my case!)
Have a drone? Well, if you do, and you wish to take photographs at the top, you will require a pre-approved permit. No drones are allowed without the documentation and you will be subject to fines should you be caught using one without proper documentation.
After taking your photos, exploring the observatory decks, and taking the quintessential selfie being head-butted by Mr. Jelly Belly, you can warm up with a coffee, cappuccino, tea, or cocoa as you marvel at the art in the hallway crafted solely with thousands of Jelly Belly jellybeans of all flavours. (Yes. You read that correctly -Warm up. a New Zealand summer consists of snowy mountain peaks, windy horizontal rain at times, and the necessary sporting of a fleece jacket so we learned coming from +36 degrees in Brisbane…)
The Ziptrek experiences come in two options – the Moa package and the Kea package. The Moa offers four courses, and the Kea offers six , including the steepest course in the world. I highly recommend doing the Kea as you get to experience world history and the adrenaline of flying through the forest at speeds of 70 km an hour due to the steepness of the course.
Once you arrive at the Ziptrek Tree house (found to the left of the observatory and cafe where the orange flags are located), check in with staff who will give you the usual activity waiver and dress you promptly with a harness, helmet, and optional jackets, gloves, and toques (what did I tell you about staying warm? and this is SUMMER!) Plus, they have a very handy gadget – the Phone bungee. I completely endorse this product, have never seen anything like it, and purchased three to give as presents. This handy gadget attaches your phone via chord to your person whether a pocket, zipper or otherwise and removes the risk of your phone dropping out of your hand into a forest, lake, sewer, off a cliff, etc. As you are allowed to photograph your experience up until the final course, have peace of mind and consider buying the phone bungee as it will secure your phone making it easier for you as you zip from branch to branch.
After getting securely equipped, the fun begins. You will be accompanied by two zip-lining guides. The guides come with experience, knowledge, and a great sense of humour. You wouldn't think a Miley Cyrus reference would be funny, but it seriously was a belly roar within the tree tops.
As you make your way through the courses, the guides give you facts and information on sustainability and how the Ziplining activity to which you are participating is safe for the environment and has a reduced footprint. Within the tree stops, a variety of bulletin boards are posted for visitors to read further on the effects of human contact upon the earth and how Ziptrek sees itself in the equation. They have a philosophy of Make, Break, Take, Cake – all of which are explained through humour and interesting facts such as the incredible amount of beech trees being planted yearly to enhance forests and vegetation.
The first line is the tamest of all to get participants warmed up for the fun. The shortest and smallest in the course, it felt like a stepping stone to reach the steepest of all. Once you complete the first segment, the guides see your confidence and trust bringing challenges to the table.
The Fun Variations of the Ride
After the first course your adrenaline starts bubbling. At this point the guides offer challenges with particular variations to try. For the second line, it was suggested to ride backward- but it doesn't start there- how about riding backward with your ankles wrapped around the cable? It sounds somewhat scary or as if it required a contortionist's flexibility, but it really isn't too bad if you get the momentum and enough strength to get your legs up there! If you don't get enough momentum, as the guides pointed out, you will resemble Miley Cyrus riding the "Wrecking Ball." There it is. The Miley Cyrus reference I told you about. Funny wasn't it? Uh, wasn't it? Well, it was funny to us up in the trees in the moment anyway
Once you have tried the ankle trick, the next challenge presented to you is laying back in a reclining position. Doesn't sound too difficult, however, leaning back can be quite nerve-wracking. Do give it a try as the third course is actually the longest and most scenic of all giving you such a beautiful panoramic of the Queenstown Remarkables. Plus, while zipping along, see if you can spot the Moa and the Haaste Eagle statues. Both extinct native New Zealand birds, the moa and the haaste eagle were victims of severe hunting (moa) and loss of food (haaste eagle as its main source of food was the moa), leaving earth, scientists believe some 300-500 years ago. As the guide pointed out, the moa was a massive flightless bird measuring about 3 times the size of an ostrich. One moa drumstick could feed a family for weeks. Joking, the guide suggested that the Maori people could have opened a KFM (not KFC) and made a fortune on breaded moa fingers…another tree top joke where you probably just had to be there to giggle profusely.
The fifth course, the guide had us zipping to a song of choice. Get your vocal chords ready to sing across the line. No wimp to a challenge, I stepped up to the plate on my turn and belted out my best version of Mary Poppins' classic "Superkalafragilisticexpealadocious." I chose this song thinking the word would take as long as the course to sing. Laughingly, I was close to right as I was nearly able to complete half the chorus before reaching the finish line.
After the fifth course, a 20-minute walk awaits. As the beech forests are currently being restored, it is prohibited for any construction or disruption within the restoration grounds. Therefore, a scenic hike down the mountain side was added to the experience to not only protect the beech trees, but also to allow visitors to observe conservation efforts, various species of plants and flowers, and possibly spot one of the many native birds.
Once at the sixth line, cameras use is no longer allowed as the speed and steepness proves too dangerous. Before you take off, you will be briefed on the additional safety precautions put in place. For this final leg of the experience, if you wish a final adrenaline kick, why not go upside down at 70 km an hour?
Once you reach bottom, you have completed your 6-stage adventure through the trees. Professional photos await you at the office in the event you were unable to take any of your own, as well as a variety of souvenirs for purchase including signature shirts, and mementos.
And, on that note, I am happy to share my interview with Ziptrek Executive Director Trent Yeo!
Since launching 18 months ago, you have become widely recognized as a must-do attraction in Queenstown with several prestigious awards. How does this feel to be earning such accolades in a record amount of time?
The awards that we have won from our peers in community, business, outdoor activity, media and sustainability have all been a little different. Each won in itself is a little pat on the back, a little support from our compatriots but really they have two big roles in our business and are part of a strategy. Always to seek ways to be better everyday in every aspect of what we do not only in adventure tourism and in Queenstown, but as a business force for global good. The second part of it is for our team. The guys who need inspiration, who themselves drive a spectacular experience every time they meet a guest for the first time. Whatever we are doing seems to be working:)
Where do you see Ziptrek Ecotours in the future? Any plans for expansion?
Lots of plans. Never stand still. The story often not told about innovation is that product innovation is just the part of the iceberg that people see. We have actually developing so many other parts of the business from partnerships and relationships to online brand and communication to strong activity offshore towards our own marketing of Ziptrek. And yes, more product development is coming:)
After much success in Canada, what drove you to launch Ziptrek Ecotours in New Zealand?
Success in North America was driven by my business partners who are very smart people. Garnering support for the first zipline company in North America in 2001 was difficult. Going into urban ziplines such as at Vancouver Winter Olympics and SuperBowl 2012 was another challenge.
For my part in it it was partly an accident and also partly a very specific plan. Ziptrek still has many opportunities for locations. As a passive, educational and low impact method of travel it has lots of places that would receive such a business model. Queenstown more than any other place we looked at in the region has a whole level above when it comes to experience and atmosphere. Highly competitive and therefore excellent quality matched by tourism demand. Queenstown adventure and 100% Pure New Zealand were also such a draw card framework for Ziptrek Ecotours to open into in 2009.
And lastly, being a strong presence in eco-friendly tourism is one of the main mandates of Ziptrek Ecotours. What does it mean to have contributed so significantly to this worthy initiative?
Sustainability is such an important driver of our business. Our methodology is getting people excited by it, because people are the most important resource in the pathway towards an Earth with humans on it! It is not technology or lack of resources that will change our path, but the will of people. Thousands of people per year now come to Queenstown and I think leave with a sense that Kiwis care, that business takes its role seriously and our clean green image does have some legs. It does have some bite. We are more interested in the dialogue that we can garner around these important issues.
***
Not only were the staff and crew attentive, friendly, and confident, but also funny, knowledgeable and made us all feel safe, even when upside down. I highly recommend this experience to anyone travelling to Queenstown wishing a fun and unique air experience. I know that many flock here for the bungee jumping, swings, etc., but for those who are just too scared to plunge 70 metres, this is a great, scenic, and less scary alternative. Plus you are helping the environment by choosing an activity that is environmentally conscious.