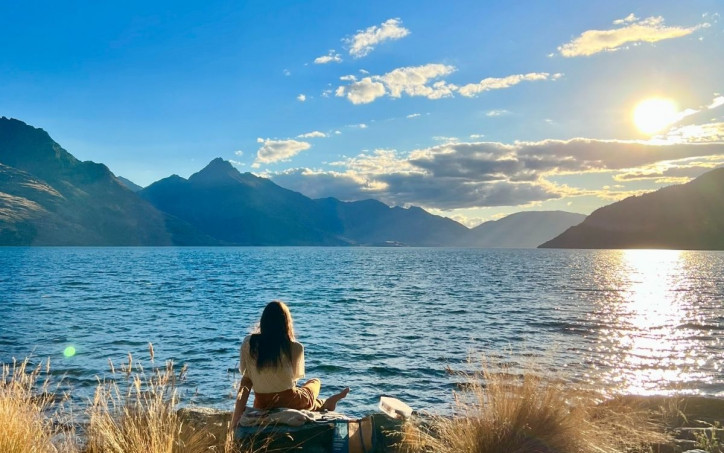 Whether you opt to take the bus, share a ride or walk it out, getting from A to B in Queenstown – in a climate-friendly way – is easy.
Fact: Transport makes up nearly half of Aotearoa New Zealand's energy-related emissions, and transport emissions have doubled since 1990.
According to Gen Less, reducing your car use is the biggest thing you can do at an individual level to reduce emissions.
So while you're visiting Queenstown, an easy way to make a real difference for climate change on your holiday is to choose lower-emission transport.
Luckily, Queenstown has plenty of climate-friendly options that make it easy to get around with a light carbon footprint – and it'll be lighter on your wallet, too!
Here's how to choose clear, more climate-friendly transport while visiting Queenstown:
Take the bus
If you're staying outside of Queenstown central, or want an economical and eco-friendly transport option to/from Queenstown airport, taking the bus is a great idea!
Queenstown's Orbus bus service connects the airport with central Queenstown as well as a network around the district. Fares are only $2 per ride with a BeeCard, pick one up at the iSITE in town. With cash, it's $4 per ride. Check the timetable here.
In the winter, opt to hop on the ski bus up the mountain – it'll drop you right at the door and save you lugging your ski gear up from the carpark. Plus, you won't have to worry about attaching snow chains or driving in winter conditions.
Taking the bus helps reduce traffic congestion, saves you money and the more people on board, the lower the carbon footprint of the trip.
Tip: Thinking about checking out Arrowtown? Catching bus #2 from central Queenstown will have you there in under an hour!
Walk it out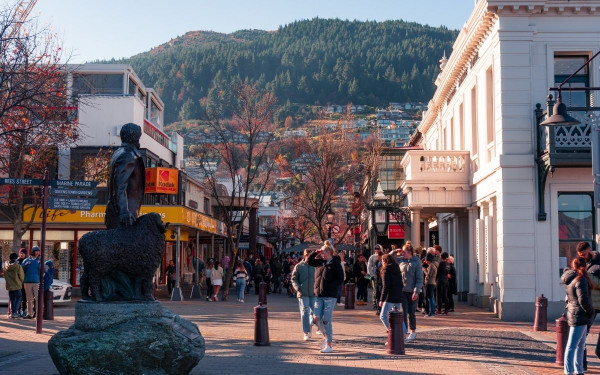 Image: Sulthan Auliya, Unsplash
Did you know that about a third of vehicle trips in New Zealand are less than 2km? These could be all avoided with a half-hour walk.
We reckon the best way to explore an unfamiliar place is on foot. Getting around by walking enables you to take in all the sights, smells and scenery of Queenstown at your own pace – plus it's great exercise and great for the environment, too.
Lucky for us, Central Queenstown is easily walkable. Most accommodation is located within easy walking distance to bars, restaurants, activities and lakeside trails.
Some of the Ziptrek team's favourite walks close to town are the Tiki Trail, Queenstown Hill, Queenstown Gardens and the Frankton Track.
Bike in between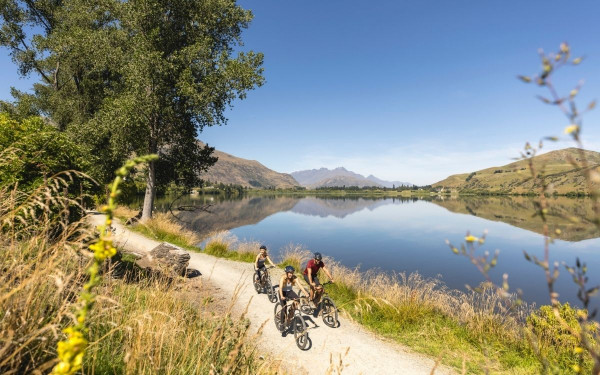 Image: Destination Queenstown
Whether you're a pro mountain biker, a road rider or would prefer a cruisey, flat trail, biking is a fantastic climate-friendly transport option that's good for the mind and body.
Biking in Queenstown is easy, safe, accessible and not to mention, fun! Take a day out to explore hundreds of trails or even pedal-power your way around Queenstown's wineries. Find more information on biking in Queenstown here.
Rent a bike or join a tour with Around the Basin (located down the road from Ziptrek's office in Central Queenstown) or Better By Bike in Arrowtown.
Shout out to the Queenstown Trails Trust, a not-for-profit group that has been instrumental in getting trails connected around the district. View their useful trip planning tool on their website here.

Get gravity-powered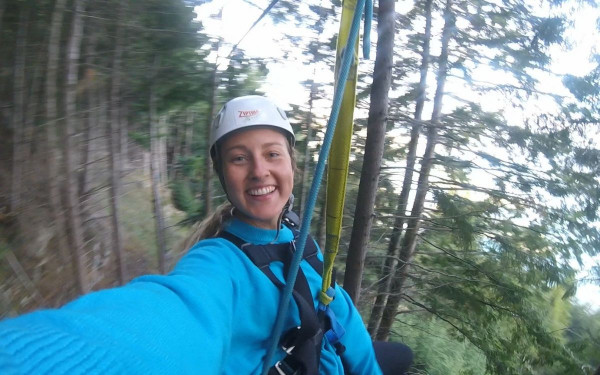 Image: Ziptrek Ecotours
We might be biased, but we think that zipping through the trees is the coolest climate-friendly transport option in Queenstown.
From Central Queenstown, either catch the Skyline gondola or walk up the Tiki Trail to the top of Bob's Peak, 400m above Queenstown.
From there, you'll arrive at the Ziptrek Treehouse and get harnessed up, before flying through the trees on a series of ziplines with epic views.
If you join a Kea-6-Line tour, you'll zip down six gravity-powered ziplines all the way back down to town.
As a certified zero-carbon operation, Ziptrek is a fantastic low-impact (and fun!) addition to your Queenstown activity.

Share a ride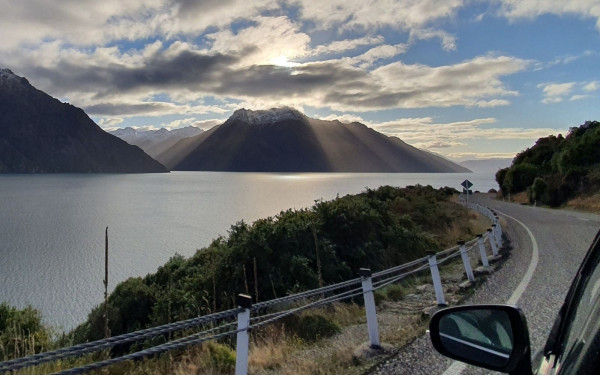 Image: Kiwiana Videography, Unsplash
If you have to drive, think about sharing a ride. Take one car instead of two and make the trip more economical – for you and the planet – by car-pooling where possible.
Choosing climate-friendly transport doesn't just help the planet, it reduces congestion on our roads, improves the quality of our air, helps boost our mental health, and saves us money at the petrol pump.
What will you choose? Bus, walk, bike or zip – or all of the above?