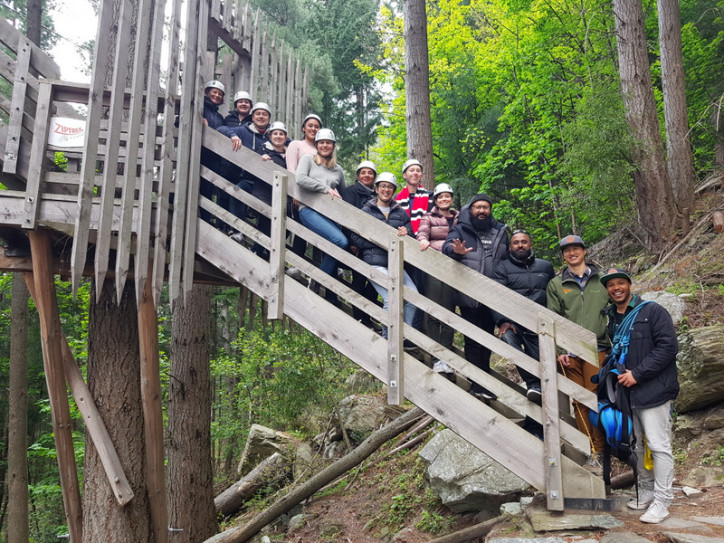 There's a quote about education that rings pretty true for the team at Queenstown's Ziptrek Ecotours.
It goes along the lines of: "The great aim of education is not knowledge but action."
Now the company's proving itself a trailblazer in 'education in action', with bespoke education programmes taking to the trees above Queenstown, inspiring and empowering young people to be informed and active leaders.
They've proudly developed bespoke programmes for students and educators, providing thought-provoking ideas to excite the next generation. These tailor-made sessions are designed to help students apply theoretical skills in a (very) practical outdoors setting.
As always, the programmes are complemented by the wise words on sustainability and ecotourism all guests receive on Ziptrek tours. What is different here is the overall aim to inspire pupils – from tertiary college to university -- to think a little deeper.
Programmes educate students on the tourism fundamentals which apply today as well as encouraging them to think about how to future proof a business to deliver environmental, social and financial success. That's in line with Ziptrek's commitment to Future-Fit, a global and open-sourced sustainability framework relating to UN development goals.
Educational programmes are designed to offer practical 'takes' on the STEM curriculum of Science, Technology, Engineering and Maths.
Science is covered off with discussions on Ziptrek's biodiversity, introduced species and Predator Free 2050 support as well as its decision to become a zero-carbon business. Technology talks to systems used to streamline the business, remote area power systems and design for low energy, while structural design amongst the trees, the benefits and challenges of Ziptrek's unique treehouse architectural design is a must for engineers. Maths is applied to the metrics measuring Ziptrek's business and the physics and cable design in ziplines.
Early uptake on the programmes has educators raving. Auckland-based Crown Institute of Studies – a tertiary institution providing training in travel and tourism, hospitality, health and wellbeing, business and computing – says it certainly ticks all their boxes.
"I've heard from all the career advisors and teachers who experienced your programme that your company is inspirational and futuristic," says Managing Director Dr Josephine Do.
And students from ARA Institute of Canterbury "absolutely loved" the programme and describe it as the highlight of their time in Queenstown.
"Your staff were extremely friendly, knowledgeable and happy to answer any questions, and extremely patient and supportive of those who were afraid of heights. The talk beforehand was really insightful, interesting, and informative," according to travel and tourism tutor Makyla Brown.
"If you're looking for a fun and inspiring adventure combined with the ultimate in outdoor education then this is the activity for you," says Ziptrek executive director Trent Yeo.
"We're looking to excite and inspire the next generation, encouraging them to think a little deeper, to understand why all our business decisions are centred around making the right call for the environment and our community, while delivering a fun and sustainable zipline activity for guests."
The $49 education package includes learning from one of our passionate team members with a lecture tailored to the group, before heading out on the world's steepest zipline for an educational experience with a difference! There are also packages to upgrade onto the full tour experience with a choice of three different options depending on time and budget.