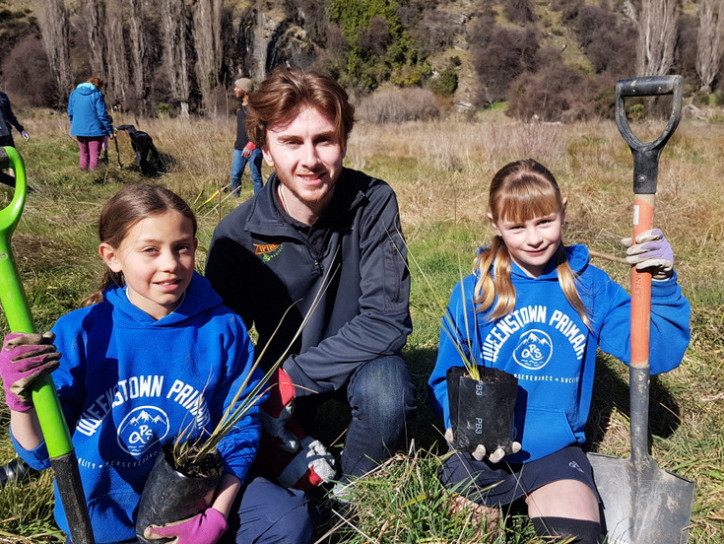 Staff from Queenstown's leading eco-tourism company Ziptrek Ecotours joined green-fingered students to plant flaxes and native grasses as part of a nationwide Paper4Trees programme.
Ziptrek's strong sustainability commitment means it has been a gold sponsor of the Paper4Trees programmes for the past seven years.
Yesterday it supported students from eight Central Otago Enviro Schools from Cromwell, Wanaka, Alexandra, Queenstown, Tarras and Clyde in planting over 40 flax and Toi Toi in the Matakauri Wetlands on the outskirts of Queenstown.
Paper4trees is a waste minimisation and tree planting initiative that rewards schools and preschools with one native plant for every two cubic metres of paper and cardboard recycled.
The initiative is supported by the Otago Regional Council, Wanaka Wastebusters and the Queenstown Lakes District Council, with QLDC Mayor Jim Boult praising their efforts.
Queenstown's award-winning Ziptrek Ecotours is celebrating 10 years in business this year, as the pioneers of ziplining in New Zealand. At its heart, it's an eco-tourism company, aiming to educate and inspire others towards long-term environmental and sustainable practices.
Next week Ziptrek is throwing itself into a number of new initiatives as part of Conservation Week.
On Monday (Sept 16) it hosts a panel discussion in partnership with the Department of Conservation on tourism's role in conservation. It will be held at the Ziptrek Shop at 45 Camp Street, Queenstown, from 6pm to 7pm.
On Thursday (Sept 19) there will be a Predator-Free Partners in the Wakatipu trapping workshop presented by Ziptrek and the Kiwi Birdlife Park at the Park from 5.30pm to 7pm.
The week finishes on Friday September 20 with a look behind the scenes at Ziptrek on site at the Ziptrek Tree House on Gondola Hill from 10am.
All events are listed on Eventfinda and Facebook Events. All are welcome and the events are free.