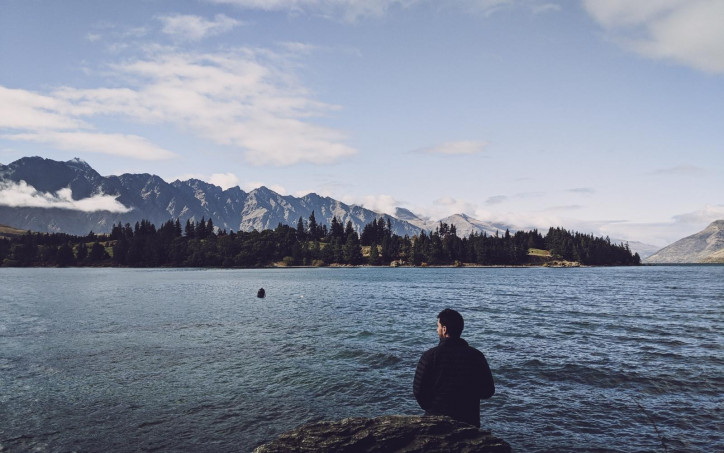 Visiting Queenstown and want to take in the spectacular scenery, sights and adventures, but with a lower carbon footprint? Luckily, New Zealand's Home of Adventure has plenty of low-impact, sustainable options. Keep reading to discover our favourite places to eat, play and sleep.
EAT
Sample the best locally-produced food in Queenstown
Did you know that some of the best spots to grab a bite to eat in Queenstown also prioritise the environment? Here are our top picks:
Sherwood
The Sherwood hotel is home to an award-winning garden-to-table restaurant – that not only serves up delicious food but champions a strong sustainable ethos, too. Employing a full-time horticulturalist, the restaurant sources as much produce as possible from their on-site organic vegetable garden – "if we can't grow it, or forage for it, we buy it locally."
Odelay
This warm, friendly cafe located in Frankton serves up a fresh seasonal menu and fantastic coffee. They grow what they can in their garden and use free range and organic produce sourced from local independent suppliers wherever possible.
The Dishery
Located in historic Arrowtown, The Dishery is the perfect place to grab breakfast, brunch or lunch while enjoying the vibrant bistro atmosphere. Passionate about sourcing local, fresh food, cocktails and wine, they have a dedicated page on their website introducing their local suppliers – from Avocado growers, Ron and Alister, to South Island Seafood supplier, Damon.
Discover where The Dishery's food comes from ➡️
PLAY
Explore the best low-impact activities in Queenstown
You can't visit the adventure capital of the world without adding an adventure activity to your itinerary. Here's how you can get a low-impact taste of adventure in Queenstown:
Ziptrek Ecotours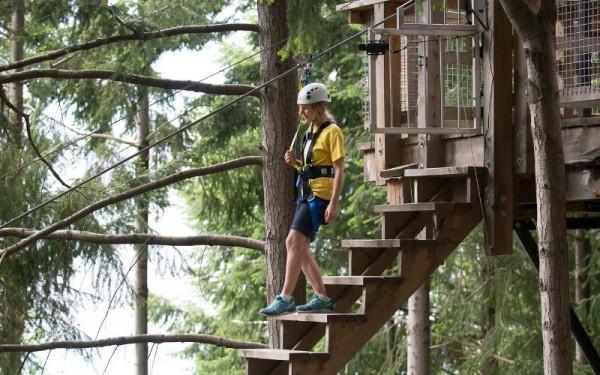 As Queenstown's first zero-carbon tour operator, Ziptrek Ecotours is an award-winning sustainable tourism business. Take the hydro-powered Skyline gondola or walk up the Tiki Trail to the tour start point at the Ziptrek Treehouse. Let gravity power you as you zip from tree to tree with epic views over The Remarkables mountain range, Lake Whakatipu and surrounding peaks on this low-impact guided tour. Pre-bookings required.
Q. What exactly does it mean to be a zero carbon business?
A certified zero carbon business has measured its organisation's carbon footprint and gained an understanding of where emissions are produced in its operations. They use this information to develop a strategic emissions reduction plan and then offset and certify any remaining carbon via a third party.

Kiwi Park
A 'rubbish tip turned refuge', Queenstown's Kiwi Park is a family-owned and operated wildlife centre dedicated to saving New Zealand's endangered wildlife species. Your ticket will not only have you encounter Kiwi and other New Zealand native animals but will help support the primarily visitor-funded sanctuary's important conservation work.
Buy your Kiwi Park ticket ➡️
Hike
Discovering Queenstown's local hiking trails is a great way to 'play' in a low-impact way. There are many short walks and hikes surrounding Queenstown – Queenstown Hill, Queenstown Gardens, Bob's Cove, the Tiki Trail and Ben Lomond (advanced) are some of the Ziptrek team's favourite ways to get out and experience the fresh mountain air.
Tip: if you're headed to Queenstown Gardens why not pick up a disc and try your hand at frisbee golf? There's an 18-hole disc golf course nestled within the gardens. The nearby Queenstown Ice Arena hires discs for Frisbee golf for $6.00 each.
Discover Queenstown's trails ➡️
SLEEP
Rest easy knowing your accommodation is doing good for the environment
Whether you're more budget-conscious or a luxury traveller, you don't have to sacrifice a comfortable night's sleep for accommodation that's low-impact.
Driftaway
Driftaway is New Zealand's newest (and possibly most scenic!) holiday park. Its idyllic lakeside setting on the shores of Lake Whakatipu in the Frankton Arm, just 10 minutes from central Queenstown, makes it the perfect base to explore everything Queenstown has to offer.
The holiday park is designed to be as low-impact as possible with many inbuilt sustainability initiatives. For example, the roof of their facility hub is adorned with solar panels that produce over 18,000kWh of electricity per year, all accommodation units have EV charging stations and they repurpose heat from wastewater.
Discover Driftaway ➡️

Sudima
Wanting a taste of low-impact luxury? The Sudima hotel group was the first in New Zealand to receive CarboNZero certification. Located in Frankton, Sudima Queenstown is a brand new 4.5-star hotel close to the airport with Central Queenstown only a 15-minute drive away.
Green initiatives in the hotel chain range from electric car charging stations and rainwater harvesting to LED lighting and chemical-free cleaning products and swimming pools.
Travelling low-impact doesn't mean you miss out on world-class dining experiences, exciting adventure activities or comfortable accommodation.
Whether you're a first-timer or a regular visitor to Queenstown, there are plenty of low-impact places for a conscious traveller to eat, play and sleep.