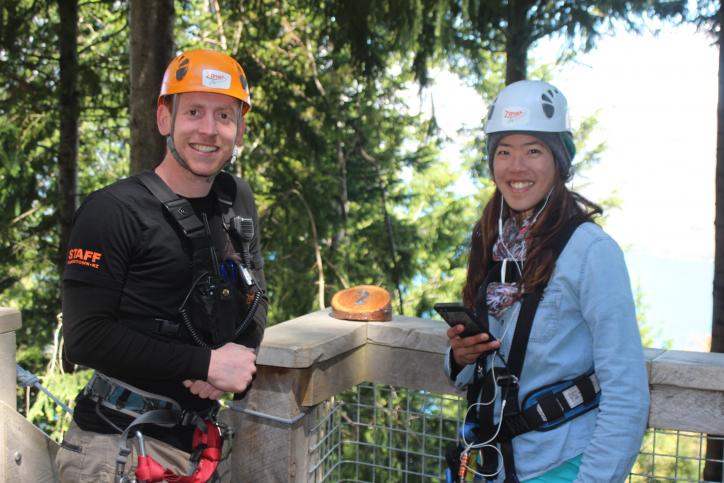 It's a well-known 'fact' that Australians speak a different language, so when launching a new audio tour app, Queenstown-based tourism company Ziptrek Ecotours has put together an Aussie version for our friends across the ditch – as well one in Mandarin.
Heading into a bumper season with bookings already tracking well over last year in all markets, the multi award-winning company – most recently lauded as winner of the Environmental Tourism Award at this year's NZ Tourism Industry Awards – next week launches its free STQRY app.
The app is perfectly timed for the approaching busy summer season and Chinese New Year celebrations in February.
The app is easy to operate for all Ziptrek's visitors, downloaded onto any phone using a QR code at the Ziptrek store in downtown Queenstown. Guests are able to use their own earphones and Ziptrek will have free disposable 'in the ear' earphones available from late January.
Each of Ziptrek's innovative treehouses on Bob's Peak now bears a number, and guests are prompted to start up the relevant audio information as they reach each relevant platform.
Between ziplines, guests step on and off a series of architecturally-designed, beautifully constructed aerial launch platforms where guides deliver an interpretive talk with a strong ecological focus before "zipping" to the next tree platform.
"WE'RE ALL ABOUT TELLING OUR STORY IN A MEANINGFUL WAY, AND THAT STORY IS AN EXTREMELY IMPORTANT PART OF US AS A BUSINESS," SAYS ZIPTREK ECOTOURS DIRECTOR TRENT YEO.

"Everyone should have the opportunity to enjoy a lively explanation of who we are, what we do and how it all works as they experience a 'zip' in the trees high above Queenstown, so this is us going above and beyond to make sure no-one's left out.
"It's super-inclusive for some of our Chinese guests who may previously have missed out on some of the key information or nuances in presentation from our guides, and why not do an Aussie version too?
"Our guide Steve Marchment loved being the Aussie 'translator' for that one. He's a fair dinkum Aussie who actually does hail from the land of thongs, shrimps and schooners, but he took his job very seriously and watched all the old Crocodile Dundee movies before he recorded his tour!"
More language versions of the audio tour will be launched throughout 2016.
In true Ziptrek style, staff have put together a fun online Christmas card and are calling for entries to their Christmas Karaoke competition, with the chance to win a $500 Christmas hamper. The lucky winner will be announced at midday on Christmas Eve.
On a more serious note, Ziptrek is celebrating another year of successful operation as New Zealand's ziplining pioneer.
Early this year it introduced its first Chinese-speaking staff member and is already very well equipped for Chinese speaking guests with brochures, a mobile site, and safety information all translated into Mandarin.
Two months ago it was named winner of the Environmental Tourism Award at the NZ Tourism Industry Awards, with judges describing it as a "wonderful example" of a highly successful tourism business embracing and promoting sustainability in everything it does.
Ziptrek is no stranger to sustainable practice awards, winning the Queenstown Chamber of Commerce Sustainability Award in 2010, achieving Qualmark Enviro Gold accreditation (2011) and winning the Fairfax Sustainable 60 Awards (2011) Marketplace category.
It is also a major sponsor of the new reptile wing opened earlier this month at Queenstown's Kiwi Birdlife Park.
"Just goes to show how much we love our trees, ancient dinosaurs and even Australians," jokes Trent.