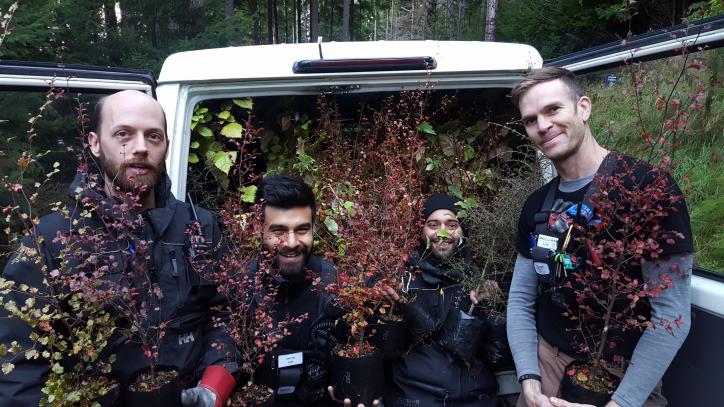 This year's theme for Conservation week is 'Love My Backyard'! For us, our backyard is the place we work and play every day and that's why our conservation efforts are so important to us.
This week we received a mix of 220 native trees which will be planted in different areas across the Ziptrek course on Bob's Peak, throughout spring.
Our Operations Manager Mike overseas most of our planting and conservation efforts…

"WE'RE CURRENTLY FOCUSING ON A PARTICULAR AREA ON THE EDGE OF THE EXISTING BEECH FOREST. WE'VE ALREADY TAKEN UP A LARGE AMOUNT OF THE WILDING PINES FROM THAT AREA AND SO WE WANT THOSE TREES TO BE REPLACED BY THE NATIVE ONES WE'VE HAD DELIVERED THIS WEEK".
BUT WHY IS THIS IMPORTANT?
Wilding Pines and other types of introduced conifers threaten the unique make-up of New Zealand's natural ecosystems by replacing and slowly killing the native trees and plants around them, thus threatening many different species of animals and birds.
SO WHAT DO WE DO?
At Ziptrek we think it's vital to protect and preserve the native plants and wildlife around us. We help to work towards the country's shared goal of reducing the number of these invasive plants, preventing further growth and re-introducing native trees where we can.
During quiet times such as now when summer is looming or in between tours, our guides get busy pulling up weeds and planting new trees in their place.
We also support the Wakatipu Reforestation Trust by raising money for the charity or donating trees.
You can help us raise more for this cause by donating at our Camp Street store or in our Treehouse before your tour.

If you'd like to see what you could do to help protect your local environment, check out the DOC website HERE.