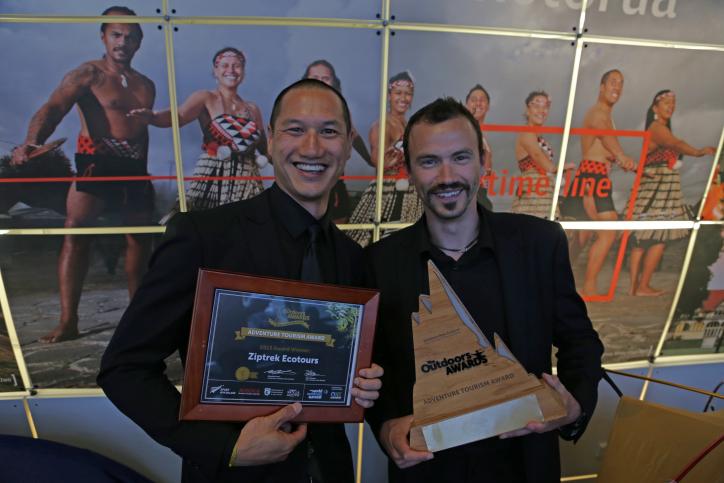 Ziptrek Ecotours, New Zealand's number one original zipline tour company, is flying high after taking out the title of Best Adventure Tourism Business at the 2013 Outdoors Awards held in Rotorua last night (November 21 2013).
The prestigious award was presented to Ziptrek Ecotours' director Trent Yeo and operations manager Mike Higson in front of an influential crowd of around 160 industry people attending the three-day World Outdoors Summit.
The annual awards, organised by Outdoors New Zealand, acknowledges the highest levels of individual and organisational achievement in outdoors recreation and education in New Zealand.
"Outdoors New Zealand spans education, recreation and tourism so it means a lot to be recognised on a broad spectrum like this," said Mr Yeo.
"The fact we're in the company of some of the world's best outdoor enthusiasts and specialists makes it even more special."
"We take great pride in providing meaningful experiences in the outdoors and as a relative newcomer that seeks educational outcomes in tourism we're proud to accept this award on behalf of the entire Ziptrek team," he said.
"We work tirelessly to ensure all our guests have an incredibly memorable experience which is fun, educational and safe.
"We celebrated our fourth birthday earlier this week so it's also a great birthday present.
"We're also incredibly proud of the work we do to promote environmental awareness and our work within the local community.
"New Zealand has an outstanding outdoors community which deserves special recognition.
"This award puts us on the map with some of the pre-eminent experts in outdoor recreation around the world which is great for Queenstown and New Zealand," he said.
Ziptrek Ecotours beat off stiff competition to win the accolade which measured companies on having a positive staff culture, its engagement with the community and its environmentally-friendly policy.
The company was also praised for its work in reducing barriers to outdoor recreation participation.
"Ziptrek can be experienced by people of all ages and abilities enabling those who may not normally be able to access the outdoors to do so," said Mr Yeo.
"Just this week we had our eldest zipper out on course, aged 91 years. He fully embraced the experience and was blown away by it. There was also an eight-year-old girl on the same tour which just goes to show the diversity of our guests."
The multi-award-winning established eco company is well respected for its environmental and fundraising commitment to the local community.
Since its launch four years ago over 600 man hours have been by donated by staff to local projects as well as financial contributions.
Outdoors New Zealand CEO Garth Dawson said Ziptrek Ecotours "embodies the very best of New Zealand's adventure tourism community."
"It's an innovative company that celebrates New Zealand's landscape and has a real focus on environmental and community sustainability," he said.
"Ziptrek Ecotours looks after its staff and community – it's an outwardly-focused business, not an inwardly-focused one. Ziptrek Ecotours is an integral part of the outdoors family."
Ziptrek Ecotours' experienced guides have completed more than 291,000 zips through the forest canopy on gravity fed ziplines, giving a large number of guests the opportunity to soak up stunning panoramic lake and mountain views of Queenstown and its surroundings.
Between ziplines, guests step on and off a series of architecturally-designed, beautifully constructed aerial launch platforms where the experienced guides deliver an interpretive talk with a strong ecological focus before "zipping" to the next tree platform.
Since Ziptrek's inception it has welcomed an array of celebrities and international media gaining the company worldwide recognition as a fun adrenalin activity with an environmental ethos.