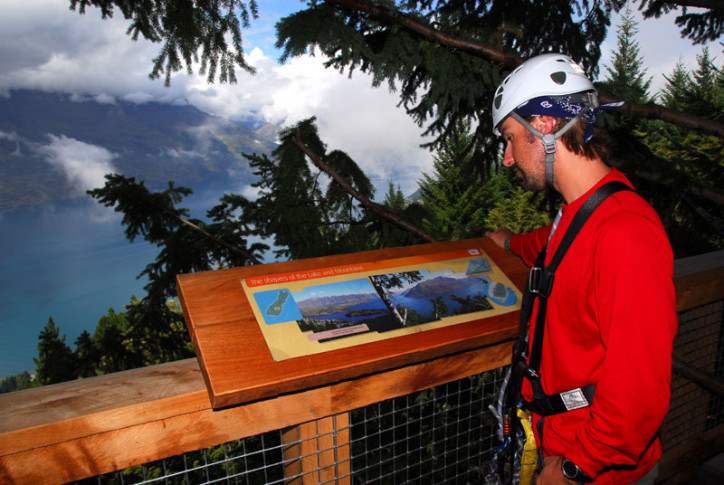 Queenstown is one legendary town! Why? It's so well known as the adventure capital of the world! You can't say you've finished visiting Queenstown without taking in at least one of the extreme activities! Really, they have everything that the adventure seeker could ever want!
It's impossible for anyone to visit and leave saying they were bored. There are so many activities in Queenstown to check off. Imagine I haven't gone skydiving, paragliding, white-rafting, and many more in this area! It's really the adventure capital of the world!
You can't miss out on this town! To help you get the most out of your trip in Queenstown, I've put together a guide of top seven activities that I have experienced in Queenstown!
1. JUMPING WORLD'S FIRST COMMERCIAL BUNGY JUMP
Seriously, we all only live once, so live it up for the world's first commercial bungy jump. Why would you want to miss out on the birthplace of the modern bungy craze and one of the most-wanted jumps on the whole planet?
Nonetheless, it is one of most famous attraction in Queenstown and its adventurous spirit created Queenstown's character. This is a must-do in New Zealand.
Here you can choose between classic single-man bungy, water-touching bungy and even tandem bungy for those who want to share in the exhilaration.
2. SWINGING WORLD'S HIGHEST CLIFF BUNGY JUMP & SWING
Thrilling experience in an awesome location. You can choose from many different ways to make the fall and swing where each is rating on a scariness scale of one through to five. The fall and swing across the canyon happens quickly but then as you hang suspended above the river you have time to take in the whole scene. It does not jolt the body at all.
I had so much fun, and I loved the way the staff messed with me before both of my swings. The guides are masterfully sadistic to heighten the experience. Go ahead and jump twice like I did: one front and one back. Facing forwards and backwards are each their own unique and favorite experiences. Personally I found backwards fun and exhilarating, and forwards terrifying and exhilarating. Take your pick!
3. HANG GLIDING FROM CORONET PEAK, THE HIGHEST TAKE-OFF POINT IN QUEENSTOWN
It was my first time hang gliding. I ain't gonna lie that I was terrified a bit after learning the fact handgliding is one of dangerous adventures. But the staff made it feel safe. They were really friendly and always ensure that I understood what I'm doing.
I love this pilot named Danny. He was very good at gesturing and communicating with me while flying in the air. He actually taught me how to control the hang glide on my own. After landing from our flight, we both had a brief chat and discovered that we both came from the same town – Austin, Texas! Mindblowing! Be sure to ask him to take you out in the air!
Beautiful sightseeing, awesome pilot, learning how to control the hang glide…. All of that made everything so epic for me.
Nonetheless, they're the most experienced dual tandem paragliding and hang gliding company in New Zealand. They've flown more tandems at Cornet Peak than any other company. They know what they're doing. I can assure you everything what they said about themselves is true.
4. WHIZZING DOWN THE WORLD'S STEEPEST ZIPLINE
After completing the 6-wire tour with Ziptrek Ecotours, it was indeed exhilarating activity, yet comes with the most fabulous views. You will see the lake with its surrounding mountains while ziplining all the way from the summit to the ground—too epic to explain!
Their World's Steepest Tree-to-Tree Zipline was true after all, very steep, and probably the fastest one I had in a while! Also, absolutely safe!
They do provide a unique sight into the surrounding environment on both a global scale and local. They were knowledgable on many areas; really feel free to ask anything further than what they explained.
If you're into learning new things, and enjoy feeling an adrenaline rush, then they're the right adventure for you.
5. FLYING OVER MILFORD SOUND AND FIORDLAND
No matter the weather, rain or shine, don't skip out on a scenic flight above Milford Sound in a helicopter! The Milford Sound will leave you speechless. The famous author of The Jungle Book, Rudyard Kipling, refers it as the 'Eighth Wonder of the World.'
Nothing puts things into perspective like hovering between mountains so high that no matter how you peer your head up, you can't see the tops, from inside a helicopter!
Milford Sound is the top tourist attraction in New Zealand — each year, hundreds of thousands of people make the trip to Fjordland National Park to cruise through this iconic landscape, but I was tremendously lucky to be hosted by Over The Top in their 2-hour Milford and Fiordland Highlights scenic helicopter flight.
Flying back brought us along different mountain ranges, glacial river valleys and alpine lakes — yes, you will see lakes on top of the glaciers and mountains. Some of them frozen, some not. You wouldn't be able to believe it when you're up there.
Even though everything felt like slow-mo to me, but it was too hard for me to accept the end of this entire. If you're anything like me, there is nothing more beautiful than getting to see those ice fields, blue crevasses, terminal lakes and spiky mountains from the skies.
6. RIDING THE WORLD'S MOST EXCITING JETBOAT RIDE
Shotover Jet is remarkably one of the best rides I've ever had in my life! It's the only company permitted to operate in the spectacular Shotover River Canyons.
Just a FYI, the jet has the power to accelerate in speeds of over 85kph through the narrow Shotover Canyons. It's so powerful boat whipping through rocky outcrops, skim around crags and boulders, and speed through the spectacular and narrow canyons! The depth of water is only 10cm! It's like the jet actually hovered into the air! My adrenaline hit beyond the roof! Be sure to hold on tight for Queenstown's only exhilarating full 360° degree spins
I don't usually get scared easily, but this one surely got me the shitta out of my pants! I'm confident they'll do the same to y'all! This is one of top activities in Queenstown!
7. THRILLING IN A JEEP SAFARI CROSS RIVER TO SEE FILM LOCATIONS FROM LOTR
Taking a jeep safari for some 4WDing through the stunning landscape to see all beautiful sceneries that was filmed for the Lord of the Ringstrilogy is a must when you're in Queenstown!
The Jeep Safari will drive cross the river—it was about 4-5 feet deep! I was terrified a bit that Jeep might broke down right in the middle of the river. Boy, I surely was wrong. I learned that the jeep has a drain that will keep water out of engine. It was awesome experience and this entire thrill made me want to own one of those jeep!
They also take you to Arrowtown; it's a small historic mining town and that's where gold was discovered nearby in 1861. A year later there were more than 1,500 men camping and searching all golds for the Arrow River. A bonus is, you will get to learn how to filter minerals to find a gold, how awesome is that?!