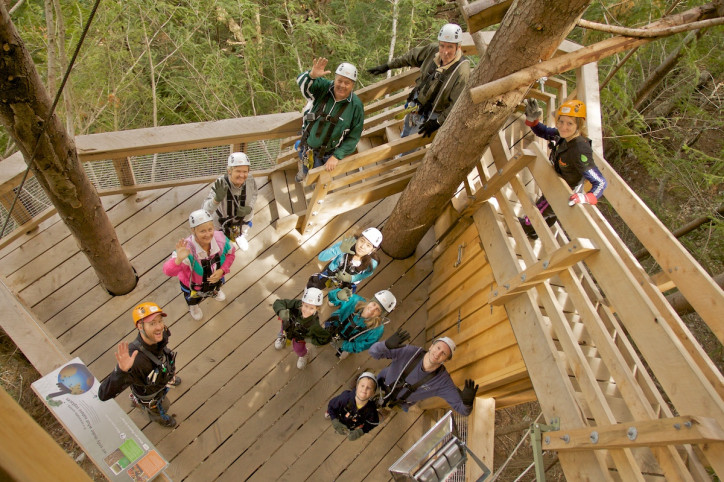 If you are looking for exciting things to do in Queenstown, be sure to put Ziptrek Ecotours at the top of your list. They offer an unforgettable zipline experience which will not only thrill and amaze you but also educate. Constructed and operated in harmony with nature it is not surprising that this is one of the favourite Queenstown attractions.
Ziptrek Ecotours is New Zealand's first zipline tour company, and over the past eight years, they have helped over a million people to enjoy this exhilarating experience. Located just a few minutes from Queenstown's central business district, at the top of Skyline Gondola Hill, you can choose from two unique zipline tours which offer an unparalleled experience in the forest canopy.
Both tours start out from the Ziptrek Guest Services Tree just 100-meters from the top gondola terminal on the edge of the treeline. The Moa tour is a four zipline adventure which is one of the most popular family activities in Queenstown. This tour starts out gently, but the speed and length of the lines increase as the confidence grows and the adrenaline flows. There are eight aerial treetop platforms, the first of which is over 25-metres high and located just a short uphill walk from the starting point.
Each tour has two qualified guides for every group of 10 who ensure that everyone is correctly secured into the five-point full body design harness and securely attached to the cable. The guides also manage the braking system which has international patents and ensures a safe and controlled stop at each platform. Even in adverse weather conditions or high winds each person is brought to a safe and happy landing. It takes between two and a half and three hours to complete the descent, and the longest line is a thrilling 240-metres in length and allows participants to reach exhilarating speeds of up to 50-kilometres per hour. This tour is suitable for people of all ages although children weighing less than 66-pounds may have to take a tandem ride with a qualified guide.
The six-line Kea tour is a high adrenalin adventure for families with older children, and thrill seekers of all ages. This tour also contains a peaceful downhill walk through beautiful native beech forest and features twelve aerial tree top platforms with six incredible ziplines connecting them. As you are whizzing down the lines, you will be able to enjoy some spectacular alpine vistas and far-reaching views. This tour can last up to three hours and includes the world's steepest zipline which descends the equivalent of thirty stories at a speed of up to 70-kilometres per hour. This exciting adventure also has one zipline that reaches 300-metres for a long-lasting thrill.
During Winter only the Twilight Tour uses the same ziplines as the Moa Tour, but this time you will be stepping off the platform and into the darkness. With just a headlamp to illuminate your descent, this has got to be the ultimate adrenalin rush! The tree top platforms are sheltered and heated to decrease exposure to harsh weather, but for this tour, you should dress as if going skiing - and then put another layer on top!
For all tours you should dress warmly, wear sturdy closed-toe shoes, and during the colder months, hats and gloves are recommended. If you are going to take along a camera or a small video recorder to immortalize your expertise make sure that you have it firmly tied to your person with either a wrist or neck strap.
Booking is recommended as this is one of the most popular Queenstown activities that you do not want to miss. For visitors wanting an easy and affordable way to get around Queenstown, rental cars are available from Omega's town centre and Queenstown Airport branches.