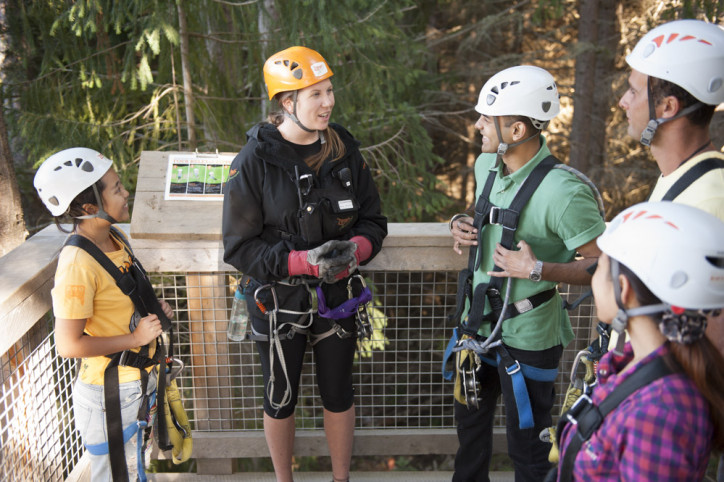 Queenstown's Ziptrek Ecotours is ecstatic to have been named a finalist for the Environmental Tourism Award at this year's Tourism Industry Awards.
The Tourism Industry Association TIA re-launched the awards this year to set a benchmark of excellence and celebrate success in New Zealand's diverse tourism industry.
Selected from over 100 entries, Ziptrek Ecotours is one of 34 finalists across two individual and eight business categories, representing most sectors across the $24 billion tourism industry.
Established in 2009, Ziptrek strives to inspire sustainability through the experience of tourism. As a pioneering New Zealand company, communicating sustainability is key to its business model, through every touchpoint it encounters as an organisation.
Operations manager Mike Higson said they were "genuinely passionate" about promoting sustainability.
"We're super proud of our sustainable business practice which is a key differentiator for us in the competitive tourism marketplace and we're genuinely passionate about raising awareness of our environment," he said.
"We love taking guests on an eco-adventure combining a zipline (flying fox journey) including the world's steepest tree to tree zipline, combined with a sustainability story, all with a backdrop of stunning iconic Queenstown."
After almost six years in business, Ziptrek continues to be driven by the ethos of inspiration through adventure, with a reputation they've built that combines the 'adventure capital' uniquely combined with the spirit of '100% Pure New Zealand'.
Making the final round of the TIA awards is further validation of Ziptrek's commitment to sustainable business practice.
Ziptrek is no stranger to sustainable practice awards, winning the the Queenstown Chamber of Commerce Sustainability Award in 2010, achieving Qualmark Enviro Gold accreditation (2011) and winning the Fairfax Sustainable 60 Awards (2011) Marketplace category.
Ziptrek's optimizes the beautiful structure of living trees to perch their guests up in the canopy of the forest. The ziplines then create a playful journey through an environment their guests wouldn't normally have the opportunity to experience. This is all happens in line with the environment; the treehouses were built by hand involving a lot of tree climbing and 'zipping' materials from one tree to another to minimise impact on the forest floor.
"We wear our business on our sleeve," said Mike. "Communicating sustainability is key to our business model and this includes multiple groups of people from as young as 6 through to 93 being our current oldest. We really embody accessible tourism.
Ziptrek Sales & Marketing Manager Nicky Busst said the company's proven sustainable business practice gave them an important point of difference.
"As well as providing a safe adventure activity accessible for all, we have a strong environmental ethic and our business philosophy is to drive eco-initiatives and support sustainable practice locally and further." said Mrs Busst.
"Our staff are passionate about sustainability and educating our guests during the tours. Not only do our guests have the thrill and exhilaration of the ziplines, but they're introduced to the native beech forest and what we're doing with our regeneration projects and they are able to return to their home country with a take away on being more sustainable in their day to day lives.
Since opening in 2009, Ziptrek alongside local business and community groups has planted over 3000 native trees and shrubs mostly in ecological management plan allocated areas.
The natural environment is their biggest asset at a business and individual level, something the company endeavours to do its utmost to preserve and improve.
The company contributes regularly to the local community, raising significant amounts of money for charities such as the Wakatipu Trails Trust, Youth Booth, Wakatipu Search and Rescue and Kiwi Birdlife Park's Tuatara enclosure.
Ziptrek Ecotours is also district sponsor for the Paper4trees initiative, educating schools about recycling and providing them with the opportunity to exchange their recycling for native trees. Since its involvement, more than 760 cubic meters of recycling has been saved from a trip to the landfill in exchange for 380 native trees planted in the wider local community.
Tourism Industry Awards winners will be announced at SKYCITY Auckland on Friday October 2.