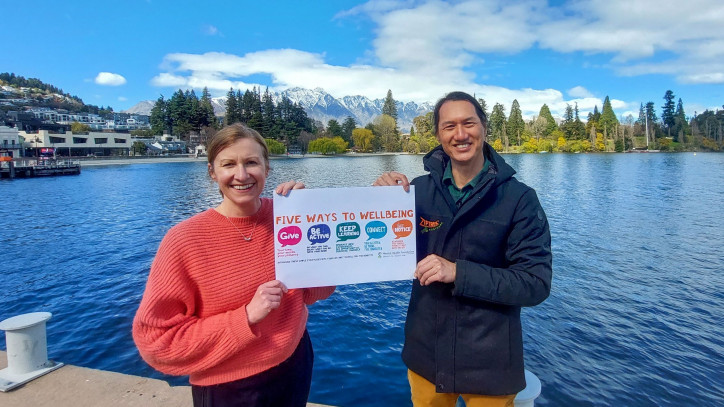 Ziptrek Ecotours and the Southern Wellbeing Trust have partnered with other like-minded local small businesses to launch #WellbeingForWhakatipu - a five-week initiative that aims to help people find balance, build resilience and boost mental health and wellbeing.
Starting today during Mental Health Awareness Week, and running until 31 October, Ziptrek will lead weekly activations aligned with the Mental Health Foundation's '5 Ways to Wellbeing'.

Each week, there will be a different focus with giveaways, collaborations and events promoted through Ziptrek's social channels (@ziptreknz) to encourage the community to come together and Connect, Be Active, Keep Learning, Take Notice and Give.
In partnership with local small businesses like the Exchange Cafe and Kiwi Birdlife Park, activities include coffee catch up giveaways, treasure hunts on the Tiki Trail and guided meditation in Ziptrek treehouses.
Fifteen dollars from each Ziptrek direct booking will also go to Southern Wellbeing Trust up until end of October to help support community mental wellbeing initiatives.
Director of Ziptrek Ecotours Trent Yeo says that the community has faced a range of challenges over the past 18 months and there's never been a more important time for people - and organisations - to focus on their mental wellbeing and support each other to stay well.
"We've been focusing on wellbeing as a team and we wanted to find a way to take it wider to the Whakatipu community and our visitors by showing how tourism experiences can align with the Mental Health Foundation's 'Five Ways to Wellbeing'. This also fits with our regenerative tourism principles which are as much about caring for people as they are about caring for our place. Tourism in itself can be a sustaining activity, from the connection and camaraderie guests and staff experience to being immersed in nature, taking notice, learning, and being offered opportunities to give back or get involved in local community projects."
"The Southern Wellbeing Trust team is doing some great work around keeping our communities well so by partnering with them we have a chance to help give back to our community and amplify wellbeing messages. We believe that more collaboration between businesses and not-for-profit organisations will help create a more resilient Queenstown Lakes community now and in the future."
Southern Wellbeing Trust General Manager Anna Dorsey says that her team is thrilled to be partnering with Ziptrek and supporting businesses to promote mental health awareness in October.
"Every dollar earned will enable more people to take part in our mental health education workshops, which means our whole community is helping each other to be more resilient and stay well."
For more information and to view the calendar of events, visit www.ziptrek.co.nz/wellbeingforwhakatipu.