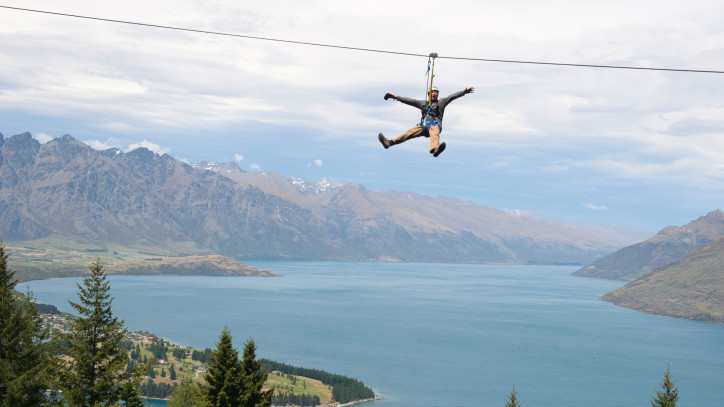 Are you an active senior looking for a taste of adventure in Queenstown? Ziplining is not just for young thrill-seekers – it's the perfect activity for the young at heart, too.
From Central Queenstown, your adventure begins with a ride up the Skyline Gondola to Bob's Peak. From there, it's a short 100m walk over to the Ziptrek Treehouse where all our guided tours begin.
Whether you're a speedy Kea 6-Line, an apprehensive Moa 4-Line, or an adventurous Kererū 2-Line + Drop, we have a ziplining tour option to suit! Note: pre-bookings are required.
Ready to take flight over Queenstown?
Here's why ziplining with Ziptrek Ecotours might be the perfect activity for you:
it's Low-Impact
Unlike other outdoor activities such as hiking or rock climbing, ziplining puts minimal stress on the body making it a great option for seniors who may have joint pain or mobility issues.
If you're able to walk down two flights of stairs unassisted, it's likely you'll be able to zipline, no worries!
Our Kea 6-Line tour involves a 20-min downhill walk on an uneven forest trail. Please advise our team if you have concerns about your ability to complete this and we can happily arrange a VIP transportation option.
Our Moa 4-Line and Kererū 2-Line + Drop tours involve a 10-minute uphill walk on a gravel road. Again, if you feel like you're unable to complete this we can arrange an alternative.
Zipping (May Be) Good For Your Health
We're not medical professionals, but there's no denying that flying through the air and taking in incredible views over The Remarkables and Lake Whakatipu is mental-health-boosting at the very least!
Trying a new activity can provide a sense of excitement and thrill which can be a great mood booster. Even better, invite friends and family to join in on the fun together.
Ziptrek is suitable for all ages 6+ and we run group tours of up to 10 people, making it a fun and exciting way to spend quality time with loved ones.
⭐⭐⭐⭐⭐ "An excellent adventure with two wonderful guides (Tim and Cait) and a great sense of security even though we were doing daring deeds. SO much fun, and our group had people from 7 to over 70 years of age."
No Experience Needed
Never ziplined before? No problem.
You'll have two experienced guides by your side the entire time. Rest assured that you'll be well taken care of – we provide all the equipment, instruction and support you need to have an enjoyable adventure.
Our guides are experts at helping you build your trust while making you feel safe and secure and on hand to help calm your nerves and alleviate any fear you might have.
Ziplining is not just for young thrillseekers. In fact, it's the perfect activity for seniors who want a low-impact guided adventure.
So why not give it a try and experience the thrill of flying through the air? Book your Queenstown ziplining adventure now ➡️