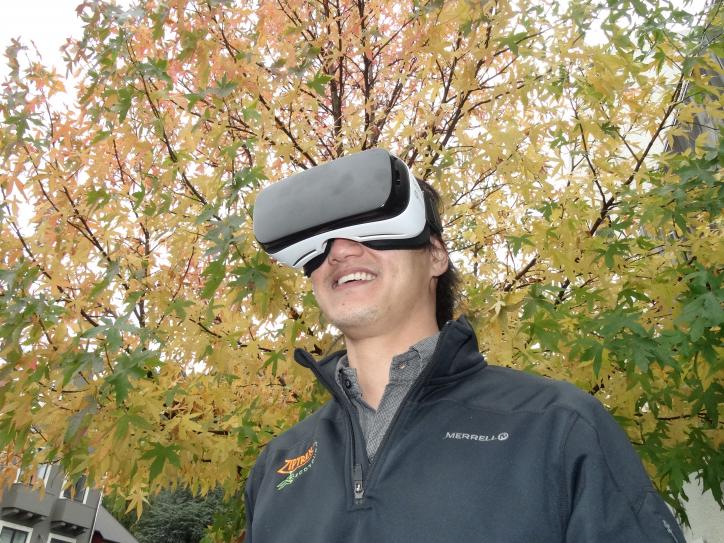 Ziptrek Ecotours is bringing its award-winning Queenstown experience to over 260 of the world's leading travel buyers at New Zealand's biggest international tourism event.
As many buyers have never been to Queenstown - let alone had the chance to experience the thrill of 'zipping' through the trees enjoying stunning lake and alpine vistas - Ziptrek is using world-leading virtual reality video technology to bring the exhilarating zipline tour to them.
Buyers at Tourism Rendezvous New Zealand (TRENZ) can immerse themselves in the world of Ziptrek by donning the latest Samsung VR headset to be part of the sights, sounds and sensory experiences of New Zealand's original zipline trip.
A high definition clip filmed with a multi-camera set up means the video has full 360 degree capabilities, literally 'putting' the buyer on the company's framed treehouses, zipping downhill and able to look around them at the stunning views as they do so.
Flying high after six successful years in business, the video technology is the latest innovation for the multi-award-winning company.
"TRENZ IS THE PERFECT PLATFORM FOR US TO LAUNCH THE 360-DEGREE IMMERSIVE TECHNOLOGIES, PUTTING AN EXPERIENTIAL PRODUCT SUCH AS THIS INTO THE HEARTS AND MINDS OF OUR BUYERS. FOR THOSE WHO AREN'T SURE WHAT THIS LOOKS LIKE, IT'S LIKE A 'LIVE' VERSION OF GOOGLE STREETVIEW, ONLY IT'S GOOGLE STREETVIEW ON STEROIDS!"
- TRENT YEO, ZIPTREK ECOTOURS DIRECTOR
"We're trying to get people to feel what it's like to be flying through the trees and see the majesty of our tree architecture in context."
The company will be using the headsets on future sales trips, both domestic and overseas, as a tool for staff training, and may have them in their Queenstown store to give people a "taste" of the trip before booking.
Mr Yeo described tourism as the "experience economy" and said he believed the crossover between technology and the physical experience would "blow people's minds".
Ziptrek Ecotours has experienced a "stellar summer" with bookings up around 35% on the previous year, according to General Manager Stu Cordelle.
"The year just went from strength to strength with our September to October shoulder season being much stronger than previously, and it carried on from there.
"Our main growth markets were Singapore, Malaysia, Hong Kong, China and India, and Australian and domestic visitor numbers were also up. We hope to see similar growth over the coming 12 months."
The company is anticipating even further growth with the advent of evening flights into Queenstown Airport from this winter.
"Global tourism is growing at a faster rate than economies are growing, especially with the growth of megacities in South America and Asia. Travel trends are changing faster than ever before and people from many countries are now travelling all year round," said Mr Yeo.
"There's an increasing interest in eco-tourism and there's an opportunity for New Zealand to really develop that, gaining the type of visitor who wants to see and experience that and not go shopping!"
Ziptrek recently introduced a free new audio tour app called STQRY which can be downloaded onto any phone (using a QR code) at the Ziptrek store in downtown Queenstown. Guests can use their own earphones or access free disposable 'in the ear' earphones to listen to the commentary in their own language as they take a Zipline tour.
Originally available in Mandarin in time for Chinese New Year, it now has Spanish and French versions available.
A highlight of the past year for Ziptrek was being lauded as winner of the Environmental Tourism Award at the NZ Tourism Industry Awards.
Leading the way in zipline innovation and sustainable business practice, Ziptrek Ecotours launched in New Zealand in November 2009 and since then have completed more than half a million zips through the forest canopy on 'gravity fed ziplines'.
Photo credit: Mountain Scene