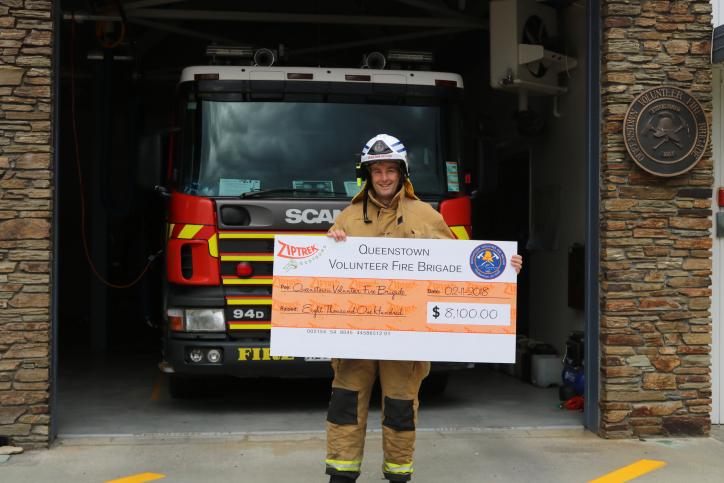 One of the country's busiest volunteer fire fighting services has received a welcome $8000 cash injection.
Thanks to a month-long fundraising campaign by Queenstown tourism company Ziptrek Ecotours, Queenstown Volunteer Fire Brigade members will be zipping off to Auckland for essential 'hot fire' training.
Queenstown's fire brigade has on average 50 volunteers responding to approximately 400 call-outs per year, and the pressure to respond to serious motor vehicle accidents and special rescues keeps on rising.
Fire Brigade Chief Andrew Bary said he's thankful to the 320 locals who 'took to the trees' over the month of 'Ziptober' to help raise the much-needed cash.
"We're genuinely blown away by the donation and recognition from the community for the work we do," he said.
"We have one of the biggest volunteer brigades in the country and we see merit in providing additional specialist training to our members, so we can better serve the community.
"The money raised is enough to send eight volunteers to participate in 'hot fire' training which teaches practical hands-on experience for dealing with live fire.
"Our brigade will face up to 600-degree temperatures while wearing and operating breathing apparatus to better understand how fires evolve and spread from different materials."
Ziptrek Ecotours prides itself on supporting its local community, having raised over $73K since opening in 2009. For the first time in nine years, the company extended its popular fundraiser from a local's day to a whole fundraising month.
Director Trent Yeo said it was humbling to watch Queenstowners get behind its hero firefighters.
"The volunteer service plays a vital role in our community and it's important to recognise that with growth comes challenges for frontline staff," he said.
"These volunteers are often first on the scene for car crashes, fires or medical emergencies and it's important they obtain sufficient funding to keep offering this amazing service.
"We'd be lost without them."
Throughout October, locals reconnected with their inner child to enjoy $50 trips Ziptrek's Kea 6-line, Moa 4-line and Kereru tours, with 50% of proceeds going to the fire service.