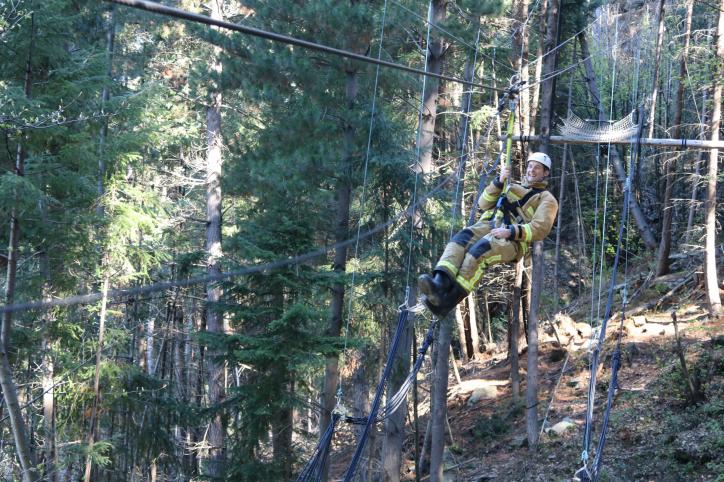 QUEENSTOWN'S VOLUNTEER FIRE BRIGADE "ZIP" IN FULL UNIFORM FOR OUR ZIPTOBER LAUNCH!
Queenstown and Frankton Volunteer Fire Brigades have been named the lucky recipients of our annual locals' fundraiser, which for the first time in nine years will be a fundraising month.
Queenstowners can 'zip' high above the treetops throughout 'Ziptober' (October 1 to 31), enjoying $50 trips on the Kea 6-line, Moa 4-line and Keraru tours, with 50% of proceeds going to the fire service.
After coming runners up in last year's community online poll, our director Trent Yeo said choosing the fire brigade as this year's local community cause was a "no-brainer".
"It was exciting to watch the support for the firefighters in last year's online poll between winning cause Branches Charitable Trust and Wakatipu Alpine Cliff Rescue," he says.
"The volunteer fire brigade works tirelessly to keep our local community safe, so it was only right to show our support for the great work they do," says Trent.
"Seeing the firefighters zipping through the forest in full uniform at speeds of 70kph was priceless.
"Now we'd love to see their supporters out in force during Ziptober for a record-breaking month in aid of a good cause."
Queenstown and Frankton Volunteer Fire Brigades have on average 75 volunteers responding to over 400 call-outs per year.
Fire Brigade Chief Andrew Barry said his team are "absolutely wrapped" to be the lucky cause for this year's local's month.
"Zipping through the trees was a nice change of scenery from the station but was somewhat challenging in our full kit," says Andrew.
"It's a great feeling when our community gets behind the volunteer force and I can't express how grateful we are.
"Community donations will often go towards providing experiential training to our volunteers or buying specialised equipment.
"The Ziptober funds will hopefully go towards sending some of the crew to Auckland to experience real 'hot fire' training, the closest thing to a real fire situation.
"It's invaluable training that's only made possible with help from our community."
We've raised a total of $65K to date supporting local groups including Lakes Family Centre, Youth Booth, Wakatipu Search & Rescue, Kiwi Birdlife Park, St Johns Ambulance, Queenstown Scouts and Wakatipu Reforestation Trust and most recently Branches Charitable Trust.
Zipliners will need to show proof of residency from the Southern Lakes or Cromwell regions on arrival and bookings can be made online using a ZIPLOCAL18 promo code or by calling 03 441 2102.