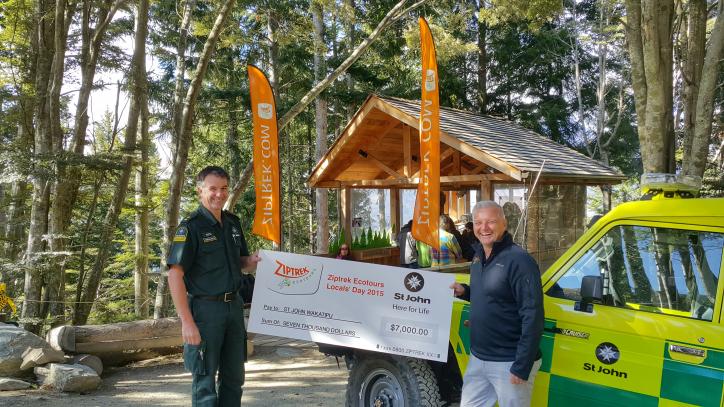 Multi-award-winning Queenstown based-tourism company Ziptrek Ecotours helped locals reconnect with their inner child with a record-breaking locals' day in aid of a good cause.
The locals' day was a massive success, with almost 280 locals filling tours days in advance. They were looking for the chance to 'ziiiiiip' through the tree canopy atop Bob's Peak, taking in breathtaking views of Queenstown along the way, and weren't disappointed.
Ziptrek was "thrilled" to raise a grand total of $7,000 for the local branch of St John's Wakatipu – giving 50% of proceeds from 'locals' price trips of just $50 per person for the Kea 6-line tour or Moa 4-line tour.
Ziptrek has been holding locals' days to thank its local community and benefit a local charity or cause since it launched almost six years ago. The amount raised is the highest in that time – nicely 'topped up' by the company to make a round figure.
Queenstown St. John station manager Keith Raymond said they were "delighted" Ziptrek had chosen to help them out with their locals' day initiative.
"We're not directly Government funded, so rely heavily on community support and contributions to maintain our current service," said Raymond.
Ziptrek Ecotours director Trent Yeo said the company was "more than proud" to be helping another local community organization.
"I love locals' day. It's such a buzz for us to see the crew work at full rate and see everything running silky smooth. It was a record locals' day for us as well!" he said.
"It was a real pleasure to support St John's ambulance as it's important to consider an organisation that we only normally think about in an emergency. Their passion and care for the Queenstown community is very much like ours. A contribution from the tours on our locals' day is also a bonus."
"On top of all that I had some great conversations with some local people which made me realise just how close this community is. Let's stick together as we move towards the crazy summer season, so more people than ever will enjoy what we enjoy every day."
Local St John staff threw themselves into the middle of the action on Sunday by performing free blood-pressure checks for locals and passers-by from the back of their ambulances, which they brought to the main Ziptrek Treehouse and gondola base on the day.
Station manager Keith emphasised just how important it was for people to get trained in first aid.
"People need to be self-reliant, especially if we have a major emergency or multiple callouts. Despite our best efforts we may not always be available for minor injuries."
As well as celebrating with its local community, Ziptrek recently celebrated winning the Environmental Tourism Award at the national Tourism Industry Awards in Auckland. Judges were hugely impressed, describing it as a "wonderful example" of a highly successful tourism business embracing and promoting sustainability in everything it does.
The company first started in 2002 in Whistler, Canada and nearly six years ago launched into Queenstown as the Southern Hemisphere's premier zipline-based ecotourism organisation.
A video clip of the fun and action from Ziptrek's locals' day is available HERE.