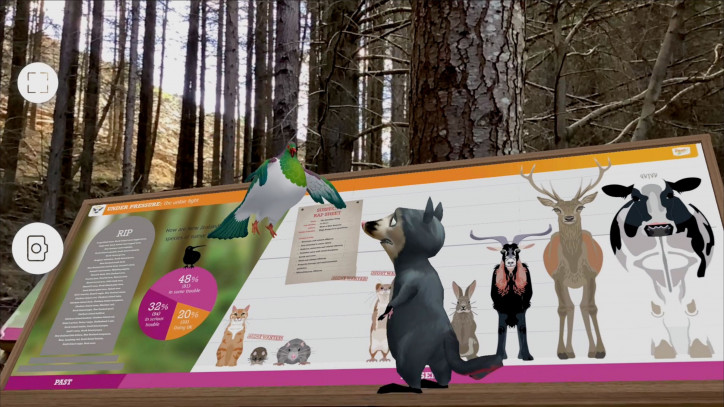 Award-winning Ziptrek Ecotours in Queenstown, New Zealand, is taking its first steps in combining adventure tourism with digital storytelling.  
With tourism going through massive change and upheaval, Ziptrek's built on its reputation as a renowned leader in eco-tourism to incorporate XR (extended reality) technologies into adventure tourism.
Ziptrek perceives its focus is as a storyteller, contextualizing its place in nature and creating meaningful 'wow' moments of travel.
Business owner Trent Yeo says the challenge was to take the perception of XR as being one of technological immersion for many young people in particular and refocus the technology application to one of nature interaction.
"That's the basis on which we've developed our animated tour guide 'Kerry the Kereru', taking people out on our very real, touchable environments in our treehouses and on our ziplines with our guides, as always, but with the additional of a light digital overlay," he says.
The new Kereru Interactive tour (known as K.I for short) features animated tour guide Kerry the Kereru voiced by local Kiwi author and singer Craig Smith (Wonky Donkey), known to Kiwi kids and families everywhere.
While the technology is still nascent and XR business cases still developing, Ziptrek is excited to build this experiment in human interaction. Alongside human guides, Kerry is a digital avatar that travels with guests as they're taken back in time and through a physical forest zipline course. In keeping with the company's environmental focus, the story is about Aotearoa, the land of birds.
Trent says whether guests remember Roger Rabbit or Pokemon Go, this is Ziptrek's 'first step' blended environment where digital assets are contextualized by spectacular natural surroundings.
"We look forward to the opportunities that augmented and mixed realities (XR) can create in the intersection with a real-life tourism experience," he says.
The project team has been working for about 18 months, with the release delayed by Covid. Alongside Ziptrek, its technology partner Plattar worked tirelessly to bring this to market when many businesses were contracting R&D investment.
Plattar founder Rupert Deans says the platform enables leading tourism operators like Ziptrek to move beyond traditional tourism delivery by unlocking the power of 3D and augmented reality, creating unique and shareable moments for guests.
"The tourism space is one of the most exciting expressions of this technology. We're excited to work with Trent and Ziptrek on this pilot and look forward to building further on this," he says.
The innovative Kereru Interactive will feature the exciting 21m 'Kereru Drop' after guests travel along two ziplines. For those who prefer not to do 'the drop' and are a bit more marginal that a Kereru at flying, there's an alternative option to return via a small exit zipline.
The tour officially launches this month with booking available from Monday March 29. The K.I. product will take an hour and is available at an introductory price of $89, available for the first month for direct bookings via the website and in store before extending to its trade partners.
Check out the details on the K.I promotional video here.