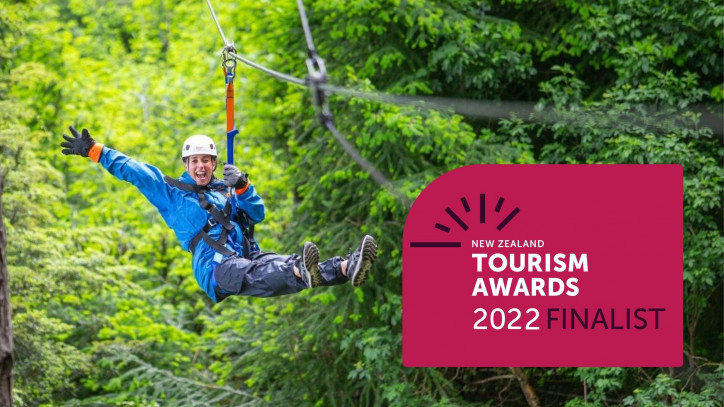 Ziptrek Ecotours Queenstown is honoured to be named a finalist for the New Zealand Tourism Awards 2022, Regenerative Tourism Award.

Sponsored by Airbnb, the Regenerative Tourism Award – tourism's most prestigious new award – will 'recognise a business that has the wellbeing of communities at its heart, is representative of Aotearoa's culture and values, has an excellent visitor experience at its core and is brought to life by a profitable enterprise that shows a high level of social responsibility'.

"Our communities and our places require businesses to work alongside them and it is a privilege to do so. We are honoured to be recognised as one of Aoteroa's leaders in regenerative business," says Trent Yeo, Executive Director/Owner of Ziptrek Ecotours.

Finalists were revealed yesterday in a virtual announcement by Tourism Industry Aotearoa Chief Executive, Rebecca Ingram.

Over 100 entries were received across the award categories, designed to showcase and celebrate the tourism industry's individual and business successes.

Judges expressed that, "all entrants deserve recognition for turning the ship around or keeping it steady in a time of crisis. It's heart-warming to know the industry is in such good hands".

Ziptrek Ecotours is delighted to be recognised alongside Kohutapu Lodge & Tribal Tours Ltd and Owen River Lodge, fellow operators providing a benchmark of excellence and inspiration to other tourism businesses, and New Zealanders.

"Ka pai Kohutapu and Owen River for their kaitiakitanga," commends Yeo, "I hope that eventually, our nation's breadth and depth of regenerative thinking in tourism is so great, that it might become impossible to award a specific winner. Until then, e tū tāngata."
Winners will be announced at an awards dinner on 10 November in Kirikiriroa Hamilton, following the Tourism Summit Aotearoa.