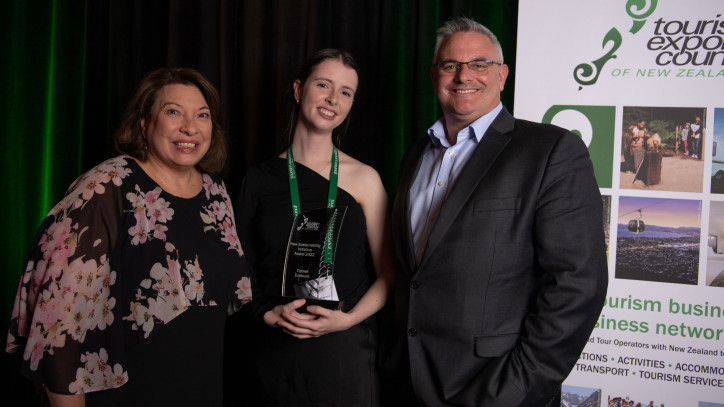 Ziptrek Ecotours was honoured to accept the Tourism Export Council of New Zealand's award for New Sustainability Initiative at the TECNZ Achievement Awards last week.
The industry awards dinner held at the Rutherford Hotel in Nelson last Wednesday night was attended by over 250 tourism professionals. 14 finalists in five categories were selected by the TECNZ board before being voted on by industry peers.
The awards aimed to recognise and celebrate TECNZ members that have been proactive in making a difference in their communities, implementing new sustainability initiatives across their business, and developing new visitor products and experiences during the pandemic period.
Judges acknowledged Ziptrek for its decarbonisation work, which includes a six-part Let's Talk About Carbon video series that aims to demystify the process of carbon reduction and offsetting for businesses and individuals.
Having recently been recertified as carbon zero for the fourth year in a row, and as Queenstown's first zero-carbon operator, Ziptrek Queenstown is proud to be an industry leader in Aotearoa New Zealand's regenerative tourism future.
"The last couple of years have been pretty tumultuous – but despite the circumstances, we've focused on continuous internal evolution. At our heart is our focus on sustainable business and our role in our community, and then to communicate our learnings," reflects Owner/Director Trent Yeo. "I'd encourage business owners to think if your operations were suddenly removed, would anyone miss you?"
Ziptrek Ecotours looks forward to continuing its educational and advocacy work in this space as the tourism industry rebuilds and would like to extend a big congratulations to all the well-deserving finalists and winners:
New Community/Charity Initiative Finalists:
EcoZip Adventures, Waiheke Island

Kohutapu Lodge and Tribal Tours, Murupara

Wheelie Fantastic, Mapua
WINNER: EcoZip Adventures, Waiheke Island
New Sustainability Initiative Finalists:
Ahipara Luxury Tours, Central Otago

Ziptrek Ecotours, Queenstown
WINNER: Ziptrek Ecotours New Zealand
Innovation in Visitor Experience Finalists:
Altitude Tours, Queenstown

Fiordland Trips & Tramps, Te Anau

Tākaro Trails, Napier
WINNER: Fiordland Trips & Tramps
Good Sort/Unsung Hero Finalists:
Ben Thornton, Bush and Beach, Auckland

Cecil Potatau, Ngāi Tahu Tourism, Auckland

Lou Baddiley, RotoruaNZ
WINNER: Ben Thornton, Bush and Beach
Emerging Tourism Leader Finalists:
Eleri Williams, Haka Tour Group, Auckland

Grace Mitchell, Active Adventures, Queenstown

Zac Watson, Maverick Digital Tourism Marketing
WINNER: Zac Watson, Maverick Digital Tourism Marketing