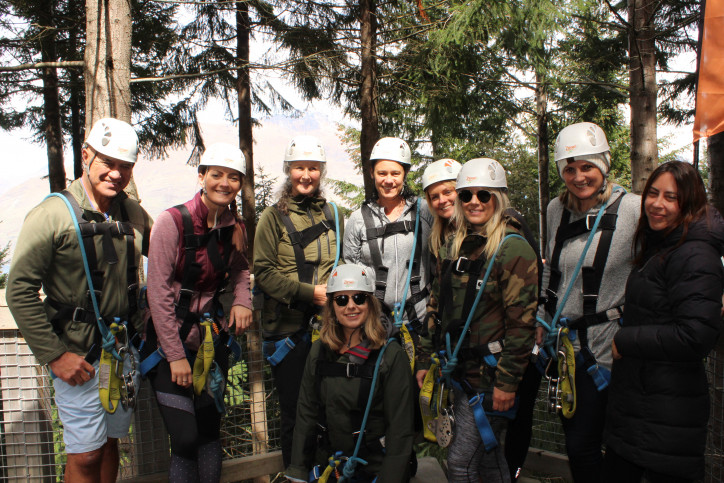 Ziptrek Ecotours has raised a recording-breaking $11,352 for Central Lakes Family Services, during its annual 'Ziptober' fundraiser.
Thanks to the month-long fundraising campaign, the multi award winning Queenstown tourism company raised $3,000 more than any other year, since opening a decade ago.
Central Lakes Family Services Manager Tina Mongston said the money will be used to open a warm, welcoming and fully resourced childrens therapy room in Frankton.
"We're really appreciative of what Ziptrek have done - they've gone all out and it's fantastic for us," Tina says.
"They've been really amazing and put in a lot of work, it's great to see a local business get behind a local charity.
"The good thing about getting extra, unexpected windfalls of money coming through is that it allows us to expand things for families in the community who are needing extra help."
Ziptrek's Sales and Marketing Manager Nicky Busst said it had been an awesome month with over 450 local residents zipping through the trees high above Queenstown.
"Central Lakes Family Services plays such a vital role in this community so to know what a difference this money will make is incredibly heartwarming," Nicky says.
Ziptrek smashed their goal to raise $10,000 this year, more than $2,000 over and above what was raised last year.
"It's amazing to reflect on the 10 deserving charities we have supported over the years as we launch into our 10th anniversary birthday month [November].
"We want to thank all the locals who get behind our great causes each and every year, as we couldn't do it without their support."
Throughout October, locals reconnected with their inner child to enjoy $50 trips on Ziptrek's Kea 6-line, Moa 4-line and Kereru tours, with 50% of proceeds going to Central Lakes Family Services.