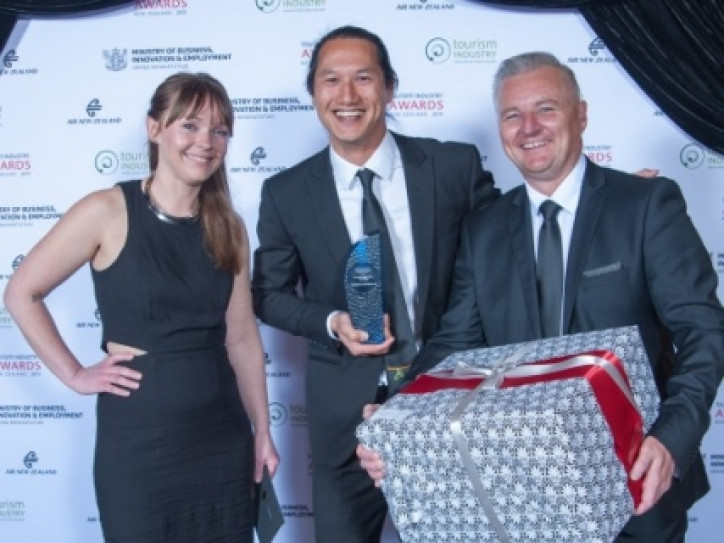 A successful business driven by the ethos of 'inspiration through adventure' is how judges described Queenstown's Ziptrek Ecotours in announcing it as the winner of the Environmental Tourism Award at this year's Tourism Industry Awards.
After almost six years in business – and a consistent winner of many sustainable practice awards over the years – Ziptrek received the award on Friday night, helping set a benchmark of excellence within the New Zealand tourism industry.
Judges were hugely impressed with the business, describing it as a "wonderful example" of a highly successful tourism business embracing and promoting sustainability in everything it does.
"Communicating sustainability through every touchpoint is key to its business model. This includes its guests, staff and extended community of suppliers, trade partners and local Queenstown community," judges said.
"During the tours, visitors discover what a sustainable system in nature looks like, what Ziptrek Ecotours is doing to 'touch the earth lightly', and what they can do in their own life to support sustainability."
Director Trent Yeo said this was "a great time to celebrate" for the crew at Ziptrek Ecotours but also the many people who had been involved in building the company over the five-plus years of operation and many more prior to that in development.
"I'm very proud of what we do for Queenstown and New Zealand," he said. "Expressing the stories of our place, connecting with the community and all within a context of touching the earth lightly is important, but doing it while having an enormous amount of fun is absolutely fundamental to tourism.
"Tens of thousands of guests have come to Queenstown, been on Ziptrek and think 'this place is extraordinary' and the people who work here really care about that."
Selected from over 100 entries, Ziptrek Ecotours was one of 34 finalists in the awards, which represented most sectors across the $24 billion tourism industry.
Established in 2009, Ziptrek is a pioneering New Zealand company, with every member of staff "genuinely passionate" about promoting sustainability and raising awareness of its environment.
The journey takes guests on an eco-adventure including the world's steepest tree to tree zipline (flying fox), combined with a sustainability story, all with a backdrop of stunning iconic Queenstown.
"We've successfully built a reputation that combines the 'adventure capital' uniquely with the spirit of '100% Pure New Zealand'," said Trent.
The business has seen strong financial results year on year, and is consistently in the Top 10 on TripAdvisor of activities to do in Queenstown, with comments about both the ziplining and eco-curriculum story.
Ziptrek is no stranger to sustainable practice awards, having won the Queenstown Chamber of Commerce Sustainability Award in 2010, achieving Qualmark Enviro Gold accreditation (2011) and winning the Fairfax Sustainable 60 Awards (2011) Marketplace category.
Ziptrek's optimizes the beautiful structure of living trees to perch their guests up in the canopy of the forest. The ziplines then create a playful journey through an environment their guests wouldn't normally have the opportunity to experience. This is all happens in line with the environment; the treehouses were built by hand involving a lot of tree climbing and 'zipping' materials from one tree to another to minimise impact on the forest floor.
Communicating sustainability is key to Ziptrek's business model and this includes multiple groups of people from as young as 6 through to 93. "We really embody accessible tourism," said Trent.
Since opening in 2009, Ziptrek alongside local business and community groups has planted over 3000 native trees and shrubs mostly in ecological management plan allocated areas.
The company contributes regularly to the local community, raising significant amounts of money for charities such as the Wakatipu Trails Trust, Youth Booth, Wakatipu Search and Rescue and Kiwi Birdlife Park's Tuatara enclosure.
Ziptrek Ecotours is also district sponsor for the Paper4trees initiative, educating schools about recycling and providing them with the opportunity to exchange their recycling for native trees.