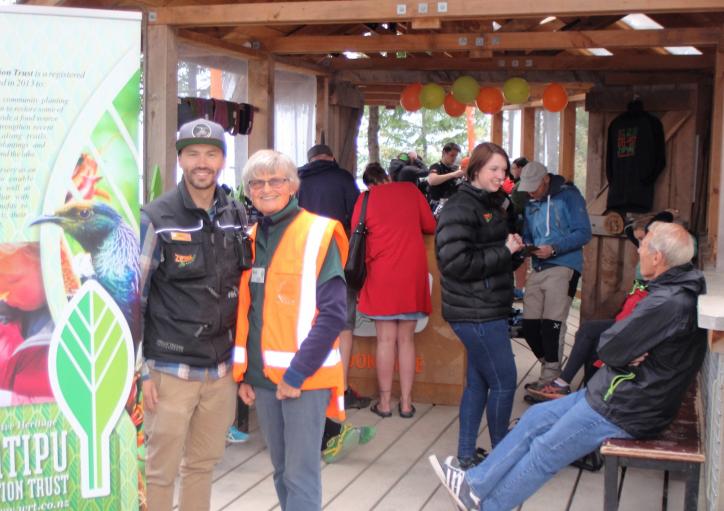 Hundreds of Queenstown locals 'took to the trees' for a locals' day treat raising thousands of dollars for the Wakatipu Reforestation Trust.
Multi-award-winning Queenstown tourism company Ziptrek Ecotours helped locals reconnect with their inner child with a day that raised $5,600 to help plant more native trees around the district.
Established in 2013, the Trust works with the community to grow and plant out native plants, including threatened species, throughout the district.
Ziptrek Ecotours prides itself on its environmental sustainability and is thrilled to work with a group such as the Wakatipu Reforestation Trust. It raised the money by putting on a special deal for locals on its Kea 6-line tour or Moa 4-line tour.
Fifty per cent of all monies raised goes to the Trust, which will put it towards buying a new trailer to help transport plants to different locations around the district.
WAKATIPU REFORESTATION TRUST CO-FOUNDERS BARB AND NEIL SIMPSON SAID THEY WERE "THRILLED" WITH THE SUPPORT THEY RECEIVED FROM ZIPTREK.
"IT'S GREATLY APPRECIATED, AND MONEY RAISED WILL MEAN MORE BEAUTIFUL NATIVE TREES IN THE GROUND AROUND THE WAKATIPU BASIN," SAID BARB.
Ziptrek has been holding locals' days to thank its local community and benefit a local charity or cause since it launched nearly seven years ago.
Ziptrek Ecotours director Trent Yeo said the company was "always delighted" to help another worthwhile local community cause.
"It's the perfect combination of having a great busy day with the crew working flat out to showcase what we do and why we have a passion for ziplining and the environment we work in every day.
"It also gives us the chance to showcase the work of the Trust, when people might not realise just how hard they work and how passionate THEY are about the environment too! They're helping change the landscape of the Wakatipu and create wildlife corridors to attract native birds and insects back into the basin and significantly enhance the biodiversity of our area."
Ziptrek has previously won the Environmental Tourism Award at the national Tourism Industry Awards, where judges described it as a "wonderful example" of a highly successful tourism business embracing and promoting sustainability in everything it does.
The company first started in 2002 in Whistler, Canada and nearly seven years ago launched into Queenstown as the Southern Hemisphere's premier zipline-based ecotourism organisation.