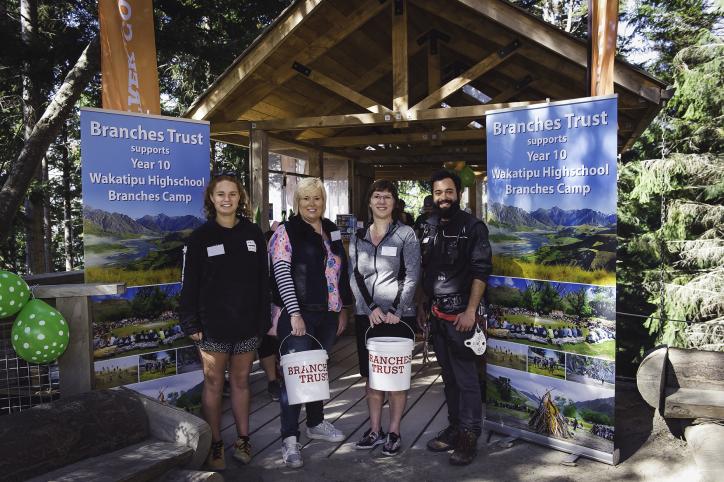 Queenstown tourism company Ziptrek Ecotours is celebrating another successful 'Locals Day' as over 200 locals 'took to the trees' yesterday (Sunday October 29) to raise money for chosen charity Wakatipu High School Branches Camp.
Over $5000 was raised for the Branches Trust which financially supports the iconic camp for Year 10 students.

This year for the first time Ziptrek chose three local volunteer organisations as potential beneficiaries of its Locals Day, and asked the community to vote for which charity they wanted to support. A resounding 56% of the votes backed Branches Camp, which will host 180 students this year.

On the day locals got to experience the Kea-6 line or Moa-4 line at a heavily discounted rate of $50, with proceedings going towards Branches. Branches Charitable Trust chair Louise Ward said the money raised was a fifth of the funds the trust needed to put towards the camp to keep it affordable for students and
families.

"We can't thank Ziptrek enough for their help, thanks so much," she said.

"This amazing environment in the trees is in complete harmony with what we do in Branches with our walking, abseiling, use of harnesses and Ziptrek's emphasis on sustainability."

Ziptrek Ecotours has been supporting local charitable organisations for nearly eight years and prides itself on its environmental sustainability. Ziptrek Ecotours director Trent Yeo said it was "awesome" for their staff to see so many Branches fans and advocates on the day, zipping around the forest.

"We're proud to support a camp that has been providing safe outdoor experiences for fifty years, something that's a rite of passage for all young people who grow up in the Queenstown district," he said.

The Branches Trust was formed in 2009 when Wakatipu High School became increasingly worried about rising costs.
Mr Yeo said Locals Day was a favourite with staff because it gave the company the chance to 'harness up' a few locals to give them a glimpse into what the company worked towards and how passionate they were.
"Connecting locals and visitors to our surrounding region is important as we're educating them about the importance of sustainable environmental practice," he said.

"That's why it's been a privilege to raise money for Wakatipu High School so students can help understand and spread this message."

Local groups Ziptrek has supported to date include the Lakes Family Centre, Youth Booth, Wakatipu Search & Rescue, Kiwi Birdlife Park, St Johns Ambulance, Queenstown Scouts and Wakatipu Reforestation Trust.

Leading the way in zipline innovation and sustainable business practice, Ziptrek Ecotours launched in New Zealand in November 2009 and since then has completed nearly three-quarters of a million zips through the forest canopy on Queenstown Hill on 'gravity fed ziplines'.

Picture captions:
1/ (L to R) Branches Trust Locals Day fundraisers Kirsty McCorkindale, Louise
Ward, Vinny McCorkindale and Ziptrek Ecotours guide Arjun Thakker
2/ Ziptrek Ecotours Locals Day guest enjoying the view of Queenstown
For further media information or hi-res images please contact:
Ziptrek Ecotours
Nicky Busst
E: nbusst@ziptrek.com
T: 027 721 9017
W: www.ziptrek.co.nz