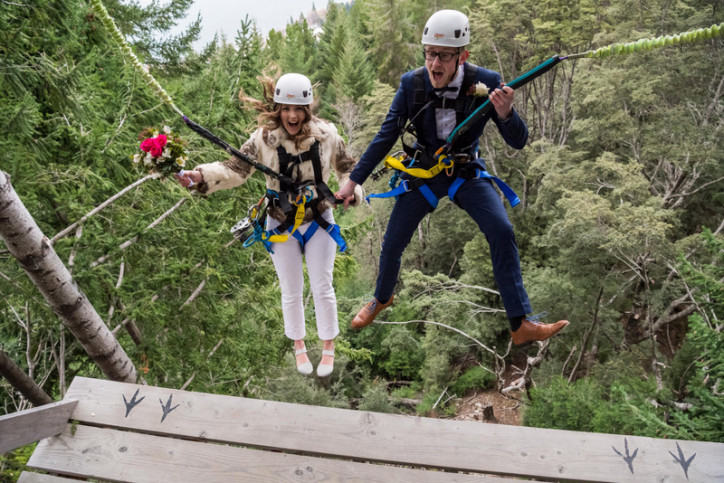 Using the assets, IP, people and infrastructure already in place in a 10-year-old business – and thinking hugely outside the square -- was key to Ziptrek Ecotours bringing in new business opportunities post lockdown.
Executive director Trent Yeo was forced to think fast when non-essential businesses massively dependent on Queenstown's international tourism were forced to close. Staring down the barrel of significant revenue losses and reduction in staff numbers and hours, the Ziptrek team got creative.
Thinking collaboration, community, efficiency and creating value for others, they started by building the operational 'backend' of the business so it worked more efficiently, built a model for repeat visitors and ultimately resulted in pricing being held while yield went up.
"Quality over quantity works better for us," says Yeo.
Recognizing that they had one of the most beautiful outdoor venues in the world with their architecturally-designed treehouse platforms overlooking Queenstown Bay, they took it from there.
Community collaborations kicked off in May with a hugely successful and sold out pop-up music event as part of New Zealand Music Month. The inaugural Treehouse Sessions was born using its tree decks as unique staging platforms for local music artists to perform up to 25m above the ground, while visitors zipped through the forest.
Wedding season arrived in style in late August with the launch of 'Weekday Weddings', where zipline-accessed treehouses are the perfect venue for small intimate weddings and elopements (no zipline helmets required for those all-important weddings pics). Shoes and clothing must be 'harness-appropriate' but a small toast to the happy couple is allowed, under the circumstances. For the ultimate adrenalin-filled leap of faith newlyweds can take a post nuptials 'Kereru jump'.
As a trailblazer in 'education in action', Ziptrek then developed bespoke education programmes to inspire and empower young people to be informed and active leaders. Tailor-made sessions help students apply theoretical skills in a (very) practical outdoors setting, complemented by wise words on sustainability and ecotourism.
Programmes educate students on the tourism fundamentals which apply today as well as encouraging them to think about how to future proof a business to deliver environmental, social and financial success, in line with Ziptrek's commitment to sustainability framework Future-Fit. Educational programmes offer practical 'takes' on the STEM curriculum of Science, Technology, Engineering and Maths.
It all dovetails perfectly with Ziptrek Ecotours becoming the first Queenstown company to achieve Zero Carbon Business in 2019.
What's new for summer 2020/21? Another weekend of Treehouse Sessions in late November and watch this space for more exciting announcements from the team that doesn't like to sit still!