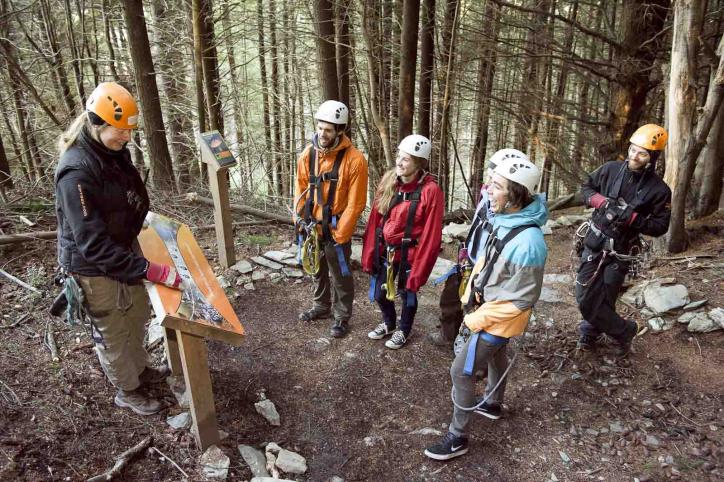 Pioneering eco-tourism company Ziptrek Ecotours is celebrating five successful years in business as New Zealand's first zipline tour operator.
The multi award-winning company continues to lead the way in zipline innovation and sustainable business practice after first launching in New Zealand in November
2009. Ziptrek Ecotours has a heritage of over 13 years in operation with its parent company, the first in North America, and since has established an international reputation for accessible adventure in both countries.
Queenstown-based Ziptrek Ecotours director Trent Yeo said he was "hugely proud" to have reached this momentous milestone in business.
"If you were to write the modern history of international ziplining, Ziptrek Ecotours would be there as global pioneers in the delivery of high quality and safe zipline tours," he said.
"After five years it's amazing to see our place amongst the heritage of adventure tourism in Queenstown. We always aimed to push the boundaries with an environmental angle that celebrated the New Zealand story, and now tens of thousands of people a year love the child-like enjoyment of flying foxes through the trees high above our mountain town."
From its origins in Canada, ziplining was a new concept for New Zealand when it was first pitched in 2005. Ziptrek more recently worked in conjunction with the University of Canterbury to create the steepest tree-to-tree zipline in the world when the Kea tour opened in 2010.
Today, the exhilarating ziplines run through the forest canopy, starting from Queenstown's Bobs Peak and zipping all the way to the bottom, taking in stunning views of Lake Wakatipu and The Remarkables mountain range along the way.
Four of the original team responsible for first bringing ziplining to New Zealand still work at Ziptrek Queenstown today.
"Many of our guys are now moving from location to location for the best job, in the coolest locations in the world! People are what make the Ziptrek experience; passionate people who choose to work here because they believe in our message," said Mr Yeo.
"They become part of the Ziptrek family, which is currently approaching a team of 40 and includes young and talented individuals who represent the company in a fun and forward-thinking way."
During its five-year journey, the company has proved no stranger to picking up prestigious environmental and business awards.
Ziptrek Ecotours won the Queenstown Chamber of Commerce Sustainable Business Award in 2010, and in 2012 won the 'Tourism, Activities and Events' category. In 2011 it received a Fairfax Media Sustainable 60 Award, and is also the only New Zealand zipline tour to be awarded the much sought-after Qualmark Enviro Gold standard for its commitment to sustainability and the environment plus Outdoors NZ Adventure Tourism Operator of the Year 2013.
Ziptrek's sustainability credentials don't stop at awards. Over the years it has donated more
than $40,000 to local and national charities, community groups and sports teams. Staff have clocked up more than 100 volunteer hours on attending and supporting community events, including working with local schools in the Lakes District as Gold sponsors for the Paper4Trees programme.
In the last five years the company has demonstrated its commitment to its immediate environment on Bob's Peak by planting over 4,000 native trees, being part of the Wakatipu Wilding Conifer Control Group and laying stoat and possum traps in efforts to reduce pests.
"One of the things that sets us aside is the integration of adventure and interpretation" said Mr Yeo.
"What that means is while people are flying through the trees they actually hear a sustainability story which links people to where they are. This is an important part of 'take home experiences' that internationals and locals alike seek in tourism nowadays."
Confirming its status as an industry leader, Ziptrek was one of the first adventure tourism operators in New Zealand, to become certified under the current WorkSafe NZ initiative. Ziptrek was involved with the creation of Activity Specific Guidelines with the Tourism Industry for its category. It was also instrumental in establishing ziplining as a category of its own right under Adventure on Tourism New Zealand's website, alongside well-established categories such as rafting, jet boating and bungy jumping.
"It's been great to see other zipline tour operators come on board with similar business models over the last two years. They help us spread the message on ziplining, eco-tourism and encourage others to take steps in becoming more sustainable," said Mr Yeo.
For Trent, the journey of introducing ziplining to New Zealand to where they are now again comes down to the people.
"In Queenstown, we're lucky enough to be surrounded by amazing mentors in tourism and business that we've learnt from and built a network of key influencers who can add real value to our business. We make sure to always return the favour to our community in many more ways besides purely economic.
"For myself personally, nine years of hard work has paid off – from the four years we spent building and developing the business to the successes we've achieved over the five years since opening.
"None of it could have been achieved without the support of our remarkable crew and alumni of 'Zippers', who are all sustainability focussed and are right at the centre of our company's ethos - and that's what's important to me."