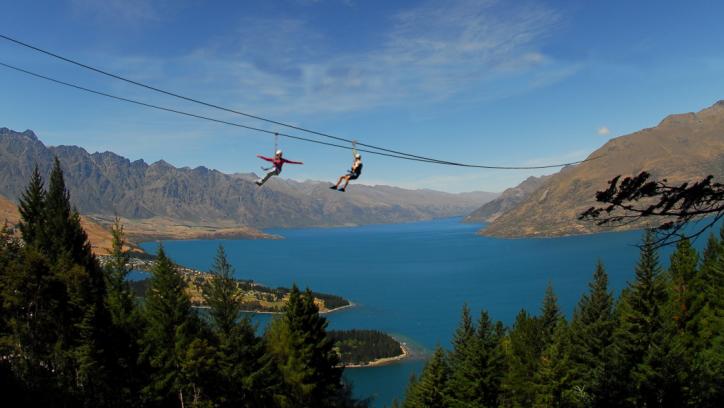 Leading Queenstown based adventure tourism company, Ziptrek Ecotours, has announced plans to open what will be the biggest, fastest and longest zipline in the world!
Consent has been granted for the company to start work on the dual zipline product during the winter, with a view to be up and running by early next year. The product is expected to have dual ziplines, so you can zip alongside a friend, and will run from their current lease area atop of Bob's Peak all the way across to Cecil Peak on the other side of Lake Wakatipu.
Company director, Trent Yeo, is 'buzzing' with excitement. "This is something that we've been working on for quite a while now and to finally see it at this stage is beyond words".
From the proposed launch area on Skyline gondola hill to the landing platform on the other side, the ziplines will have a span of just under 6 kilometres at an estimated 5,855m. This will mean it will be almost 3 times the size of any other zipline in the world and is expected to reach speeds of over 150kph!
"WE'VE HAD OUR IN-HOUSE ENGINEERS WORKING ON A NEW BRAKING SYSTEM SPECIFICALLY FOR THIS PRODUCT. ZIPLINES ARE GRAVITY FED, WHICH MEANS THAT SPEEDS CAN INCREASE DRAMATICALLY AND AS SUCH, MEANS A LOT OF PLANNING AND HARD WORK IS NEEDED TO ENSURE THE GUEST REMAINS SAFE AT ALL TIMES. WE'VE DONE THAT HERE"
- TRENT YEO, ZIPTREK ECOTOURS EXECUTIVE DIRECTOR
Ziptrek Queenstown already holds the title for world's steepest tree to tree zipline and now with this, it shows that Queenstown really is the 'adventure capital of the world". Ziptrek plans to package the product with the option of either a thrilling jetboat ride or scenic boat cruise back to Queenstown.
The project is expected to create 20 jobs during construction and a further 15-20 jobs once the ziplines are open to the public. Ziptrek has said that they plan on having a launch party on April 1, 2017.